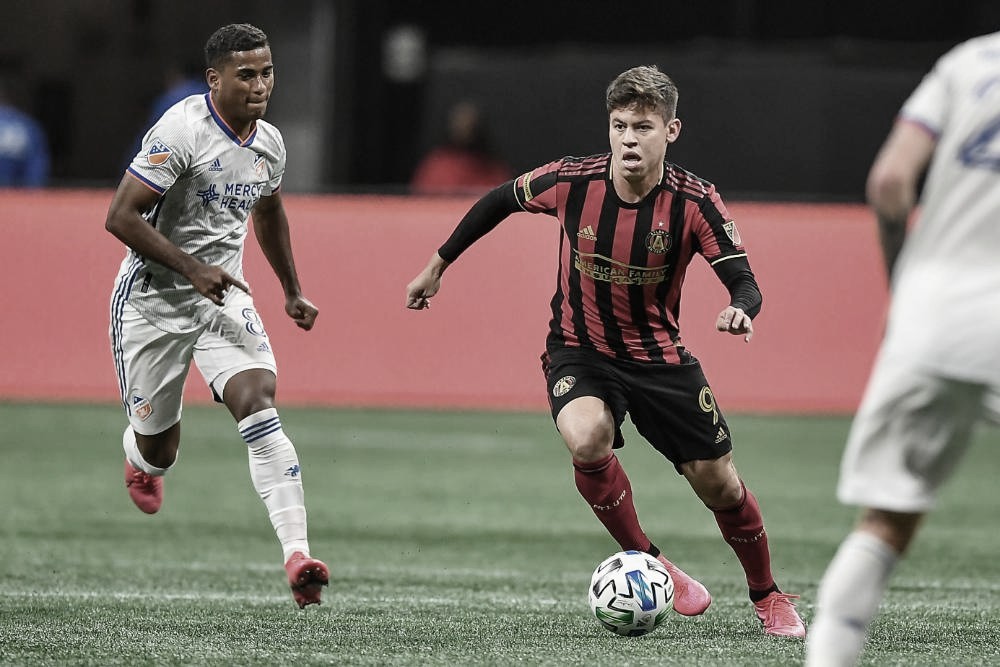 With a contract valid until 2021 with Athletico Paranaense, Matheus Rossetto was sold in early 2020 after 10 years wearing the jersey of the Brazilian club. Altogether, there were 113 matches for Athletico and won several titles, among them: Copa Sudamericana (2018) and Copa do Brasil (2019). Currently, the midfielder plays for Atlanta United and the transfer fee wasn't disclosed by both teams.
This Wednesday, in the exclusive interview for VAVEL, Rossetto said he has affection for the Paraná team. However, he was happy to choose to play in the United States.
"When I made this decision to leave Athletico to come to Atlanta, I was so happy to be recognized here by Atlanta United. As much as I have affection for Athletico, I decided to make this decision for my career. I think that will add more. There are new goals, new plans and the atmosphere here's better than I imagined. The club staff welcomed me very well. Of course, the players and the commission too. So, I'm very happy to be here."
Atlanta United debuted in Major League Soccer (MLS) in 2017. However, he got his first title in 2018. The franchise is known for bringing large audiences to the stadium and always breaking records in this area. In addition, it has a strong roster. Currently, the team has goalkeeper Guzan, midfielder Ezequiel Barco, striker Josef Martínez and other athletes. It's worth remembering that Miguel Almirón (Newcastle United midfielder), Pity Martínez (Al-Nassr midfielder) and Tata Martino (Mexican team coach) worked on the team.
"Brad, Barco and Josef Martínez are extraordinary soccer players. It feels really good to be playing with people so important to MLS and Atlanta United. My relationship with them is very good. They are incredible people. Each game we get more and more involved; both on and off the field. So, it helps us a lot in development on the field and in performance. The trend is only to improve our relationship", said Matheus.
The United States is the country with the highest number of coronavirus cases and deaths in the world. There are approximately 6 million infected and around 190 thousand deceased. A pandemic that forced several championships to adopt strict protocols for disease prevention. Matheus told how he's feeling during this atypical moment.
"As much as this pandemic has not passed, I think it will take a little longer, I'm not afraid. I have always been aware of anything, protecting myself and following the protocols that the club gives me. The club doctors always talk to me. It gives me more security. We're doing tests every day. This gives us more security and the fear goes away. This makes it easier for us to train. It's very good to test this way. Not only for the players but for everyone in the club, either: coaching staff or any other employee."
The athlete stressed the concern generated when he follows the news, but said that his routine is returning to normal as soon as possible.
"We can say that my routine is returning to normal. As much as I have this whole pandemic, I'm managing to live and train peacefully. Always protecting me. But sometimes, I follow some news that there are many people with coronavirus and are being affected. Sometimes, it ends up generating a concern. However, I'm following my routine and always preventing myself. I hope that with each passing day it will return to normal."
Due to several deaths from white police officers against black men in the United States, a series of protests took to the streets of the country. This was reflected in the sports world. In MLS, coach Thierry Henry knelt for 8 minutes and 46 seconds in protest, the league canceled several matches in protest against racism, 100 black players knelt at the same time in anti-racist protest and more. Atlanta United's Brazilian midfielder commented on the subject:
"It's a very difficult time. It's about lives. They are Human Beings. We have to respect each other, have love for life and have love for others. These deaths were passed on not only here, but worldwide. But that isn't why we players have to stop playing. We have to fight this on the pitch by playing. Respecting each other. We have to continue and we can't stop. We're already facing a pandemic that we are managing to overcome. I hope to be able to overcome this racism as well."
United are in eighth position in the Eastern Conference with 11 points from nine matches. Only two points separate him from the playoffs and three points leave him near the bottom of the standings. An abnormal performance for the team.
"As much as the pandemic has taken us by surprise, my expectation is the best possible. We're growing now in the championship. We didn't start so well, but we can give a return. I hope that this year we will be able to win this important MLS title. We go to each game to fight for these three points so that at the end of the season we can reach our main objective: to be MLS champion", said Matheus Rossetto.
This Wednesday, Atlanta enters the field to play against Inter Miami, Florida, at 8pm. A very important game in front of the last place of the conference.