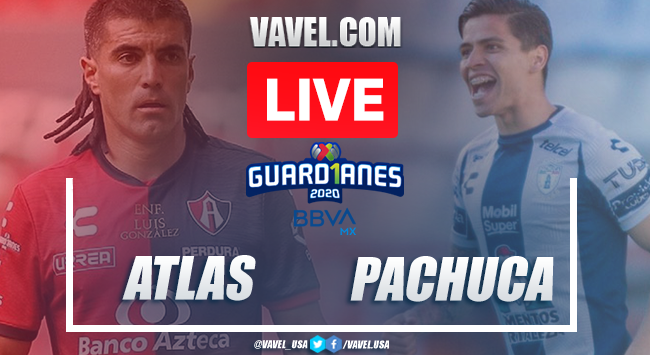 3 points for Pachuca
The game ends with Pachuca winning!
Pachuca Changes
Another change for the Red-and-Black.
New modification of Atlas
Goal for Pachuca!
Penalty for Pachuca!
Atlas also modifies
Double modification of the visitors
First change of the match
Expelled!
There have been no modifications
Now Atlas has the initiative
No changes for the complementary part
The first half ends!
Ustariii!
Close Pachuca!
Divided play on the half-court
Enter the VAR and...no penalty
No dangerous moves
Keep up the high pace
Atlas levels the actions
The Hidalgo team dominates the game in the first minutes
Game starts!
Atlas Lineup
Pachuca lineup
The Jalisco Stadium court in excellent condition
Pachuca's arrival at Jalisco Stadium
The vicinity of the red and white dressing room
One hour before the start of the match
Welcome!
Kick-off time
Pachuca remains in the top positions
Negative numbers in Atlas
Pachuca team news
Atlas team news
Pachuca Last Lineup
Atlas Last Lineup
How to watch Atlas vs Pachuca Live TV and Stream