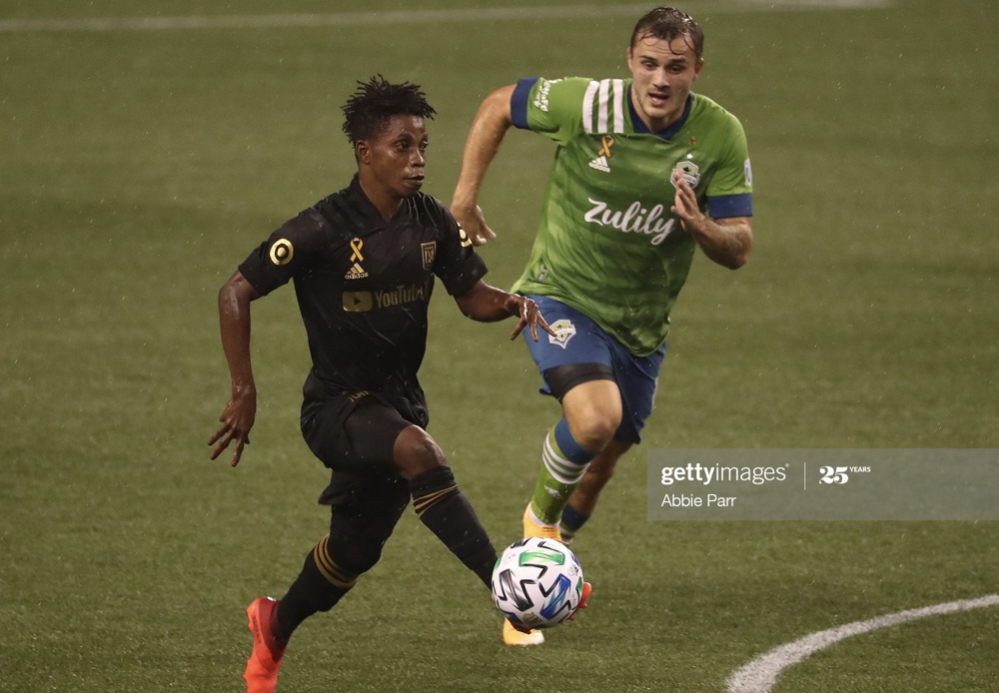 A brace from Danny Musovski and a thunderbolt from Francisco Ginella gave LAFC a deserved victory at home to the Seattle Sounders, who never really got to grips with their opponents on Sunday night. Nicholas Lodeiro scored the Sounders' goal from a free kick, but it proved to be nothing more than a consolation.
LAFC started off on the front foot, trying to get forward in the opening minutes to test Stefan Frei and the Sounders defence. However, Mark-Anthony Kaye went down after an innocuous challenge from Yeimar Gómez, and the influential midfielder limped off to cause coach Bob Bradley yet more selection headaches. Andy Najar replaced Kaye.
On eight minutes, a superb free kick in by Lodeiro saw Kelvin Leerdam go close to breaking the deadlock, but he couldn't steer his effort goal-wards. LAFC's high defensive line was definitely a risky tactic as Loderio's set pieces are renowned for causing issues. The Sounders had a number of chances in quick succession soon after, but LAFC threw their bodies on the line to keep out Cristián Roldan and Jordan Morris.
Incredibly, Najar - only just on for the injured Kaye - went off injured too, with Mohamed El-Monir replacing him. The amount of games with the short turn around time was really starting to have an effect on injuries, but to their credit LAFC were trying to put the Sounders defensive line under pressure. They had Shane O'Neill to thank for a last gasp clearance, but they took the lead through Musovski. The striker headed in a free kick that was exquisitely delivered by Eduard Atuesta after 15 minutes.
On the half hour mark, Brad Smith did well down the left hand side and crossed for Roldan to shoot, but his effort was blocked yet again by the LAFC defence. Seattle were struggling to get into the form they had shown in their previous few games that saw them top of the Western Conference. It was Smith who had a headed chance towards the end of the first half to equalise, but he headed way wide of the target.
Bradley made another substitution at the start of the second half, with 16-year old Christian Torres making only his fourth appearance for the club. Interestingly, three of them came against the Sounders. Morris was almost put through seven minutes into the second half, but a well timed challenge from El-Monir stopped him in his tracks.
Jordan Harvey was the hero for LAFC as his goal line clearance from Gomez's pile driver kept the score at 1-0. The Sounders were knocking on the door and after Lodeiro put a free kick into the area, a lengthy delay ensued after Pablo Sisniega and Eddie Segura collided trying to defend the chance.
Just after the hour mark, LAFC scored a second. Good work from Harvey down there right hand side saw Bradley Wright-Phillips have a half chance that was blocked, but Ginella thundered a shot from the edge of the area past Frei to double their lead.
On seventy minutes, it was time for the spectacular as Lodeiro curled in a remarkable free kick to halve the arrears, and give the Sounders hope they could salvage something from the game despite their below par performance. It wasn't to be, however. A break three minutes later saw Frei save well initially, but could do nothing as Musovski rifled home from the rebound for his second, and made it 3-1 on the night - which is how it finished.
Coming into the match, the Sounders were in an excellent streak of form. They had won their previous three games and demolished San Jose Earthquakes 7-1 not too long before. They still sit top of the Western Conference despite their defeat, but it was an extremely under par performance by Brian Schmetzer's men. They never really got going in the game, and struggled to find their passing rhythm that has made them so hard to defend against over the last few games.
In contrast, Bradley will be delighted at his LAFC side and their performance. Already hit by international call ups and injuries, losing both Kaye and Najar in the first stages of the game compounded their luck, but those on the pitch rose to the challenge. They gave Seattle no respect and no time on the ball whatsoever, and ran out worthy winners in the end. This was more like the LAFC side who put the Sounders out of the MLS is Back Tournament, and they did it without their key players and playmakers.
One thing that should be said is that the international call ups and injuries are not just going to affect these two teams, but all franchises over the next few weeks as tight scheduling and quarantine regulations mean that players will be missing for upcoming fixtures. This may give the chance for the next generation of players to start to make their mark in MLS, but it will certainly be a tough run in for all teams in the most elite soccer competition in the US and Canada.
Jordan Harvey certainly caught the eye for LAFC as the versatile defender helped create chances going forward and proved to be the hero defensively. His header off the line at 1-0 was a potentially game-changing moment, and it allowed his team to make it two not long after. He had a big part to play in the second goal too, crossing into a dangerous area from the left for Ginella to eventually double the lead.
Nicolás Lodeiro's free kick was certainly spectacular, but was the only real moment of quality from the Sounders who showed none of the previous winning mentality. Schmetzer will be hoping that this is just an off-day for his side and they will get back into winning ways in midweek against Colorado Rapids.
LAFC: Sisniega; Blessing, Jakovic, Segura, Harvey; Ginella, Atuesta, Kaye; Pérez, Wright-Phillips, Musovski.
Substitutions: Vermeer, Opoku, Traore, El-Monir, Guido, Duke, Torres, Najar, Leone.
Seattle Sounders: Frei; Leerdam, O'Neill, Gomez, Smith; João Paulo; Delem; Morris, Lodeiro, Roldan; Bruin.
Substitutions: Cleveland, Tolo, Penilla, A Roldan, Torres, Hopeau, Atencio, Dhillon.