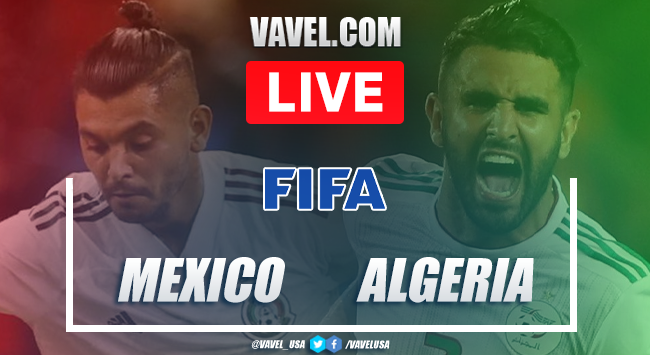 Thank you for tuning in
Last minute tie
Algeria was at the forefront
Mexico 2-2 Algeria ends
93'
89'
86' GOAL OF MÉXICO
84'
81'
76'
73'
72'
67' GOAL OF ALGERIA
66'
64'
57'
55'
49'
47'
46'
Bennacer's brutal left foot
Extraordinary monet of "Tecatito"
45'
44' GOAL OF ALGERIA
43' GOAL OF MÉXICO
37'
33'
28'
27'
25'
24'
17'
13'
6'
0'
Words of "Tata" Martino
Some of the changes in the headlines
Everything ready for the game
Lineup of Algeria
Lineup of México
Uniform of México
Rodolfo Cota will be the starting goalkeeper for Mexico
Start the live broadcast
Stay with us!
Last match between Mexico and Algeria
Where and how to watch Mexico vs Algeria
Bensebaini defends in a wonderful way
Amazing level of the "Tecatito".
Last lineup of Algeria
Last lineup of México
The Algerians are an excellent rival
Mexico goes for a perfect closing on FIFA date
Kick-off time
Welcome to VAVEL.com's LIVE coverage of the 2020 friendly match: México vs Algeria!