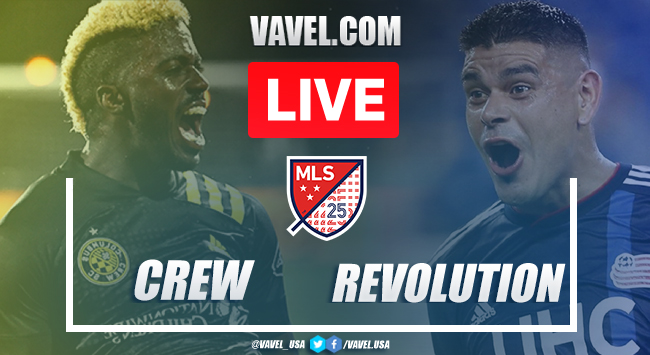 CREW ARE EASTERN CONFERENCE CHAMPIONS!
90' Stoppage time
Can they hang on?
80' Crew sub
No cards
73' Corner kick New England
69' Double sub for Revs
65' Corner kick Columbus
VIDEO: Artur goal for Columbus
61' Revs Substitution
59' GOAL COLUMBUS!
57' Corner kick New England
New England comes out sharper
Second half underway
45' HALFTIME
39' Save Turner
Shutting down Gustavo Bou
32' Free kick Columbus
28' POST!
Uniform choices
23' New England possessing more
18' Free kick Revolution
CLOSE!
Luis Diaz (Columbus Winger)
9' Corner Crew SC
Columbus has control
Corner kick Crew
Free kick Revolution
Kickoff!
Weather check
New England fans are pumped!
Interesting nugget of information
Crew SC has taken the field
Revs take the field
Umm
New England starting lineup
Columbus Crew SC starting lineup
Fans filing in
Gyasi Zardes tweet
New England Revolution have arrived
LIVE FROM MAPFRE!
Don't miss this!
Prediction
Final preview
Crew SC line-up notes
Columbus Crew SC projected line-up
Revolution line-up notes
Projected lineup for New England
How will these teams lineup?
Last time both teams made MLS Cup Final
Bruce Arena = Legend
Neutral site for Cup Final?
Trouble in Crewville?
COVID-19 problems within the Columbus squad
Now here we are
Crew Sc defeat New York Red Bulls and Nashville SC.
Now for Columbus Crew SC
Revs handle Orlando
New England defeat the Philadelphia Union
How the Revs got here
Welcome!