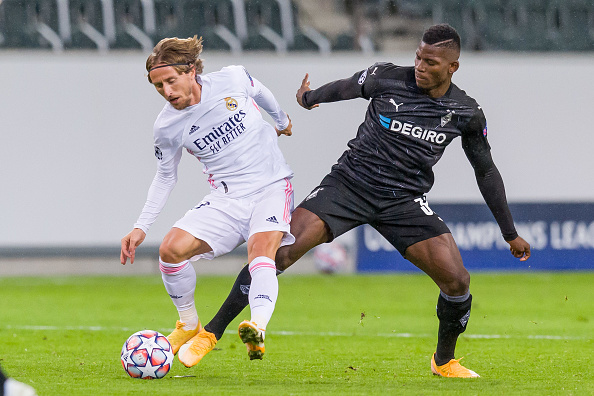 It is do or die for Real Madrid on Matchday 6 of the UEFA Champions League as they face Borussia Monchengladbach in the final match of the group stage.
Both clubs are focused on winning and advancing to the next stage and both clubs are coming off negative results so tomorrow's match is crucial for the two clubs.
"It's a big opportunity to show what we're made of as a team"
Those are the words of Real Madrid manager Zinedine Zidane who spoke to the media ahead of the big game on Wednesday.
"All the players and the club are used to playing under pressure and being involved in games where you have to be at your best. We know what's at stake and we have to deal with our emotions and, above all, prepare well. We know that a lot will be said on the outside, but the important thing for us is to prepare well and put in a great performance. I'm convinced that we'll have a great match tomorrow".
Zidane spoke about a very strong German side that has only lost one match during the entire group stage.
"They're a very good team and have proved to be very disciplined: they defend well and they're very good on the counter-attack. They're a physically powerful and very technical team. We know how difficult the match will be and we have prepared for it thinking about the opponent, but above all thinking about what we're going to do on the pitch, which is what matters the most to me".
Zidane also added how his team is used to being in this type of situation.
"We're used to these big Champions League nights and we have to start well and keep it up until the end"
The only focus on Zidane's mind is winning the match tomorrow.
"I'm thinking of nothing else other than winning and preparing ourselves well. Everyone is talking about our situation, but I'm focused on tomorrow's game and my players. We're used to these big Champions League nights and we have to start well and perform from the beginning until the end. It's a Champions League match, we have to work hard and at the end be happy with what we've done".
We have yet to hear if Sergio Ramos will make his return from injury but he is on the list of players for the match so we will probably find out when Zidane releases his starting 11.
Marco Rose who is the manager at Borussia Monchengladbach commented on the fact if he can take the same tactics that he used in the first match for the match tomorrow.
"We can obviously take a lot from the first meeting. Not a lot will have changed since then. We've spoken about a number of things, including bringing our own quality to the table."
Rose also added on the quality and urgency Real Madrid brings to the table.
It's an important game for Real too. I'm sure that they will be on their game tomorrow. They have individual quality and a clear tactical approach. They like to have the ball and dominate games, but they defend well too."
He also added that a victory tomorrow could be huge for the German squad.
"We can achieve something historic tomorrow. We're not thinking about whether or not we knock out Real Madrid."
If Real Madrid doesn't get a win or draw and Inter is unable to beat Shakhtar they will be knocked out at the group stage which would prove to be quite a disappointment for the 13-time Champions League winners.