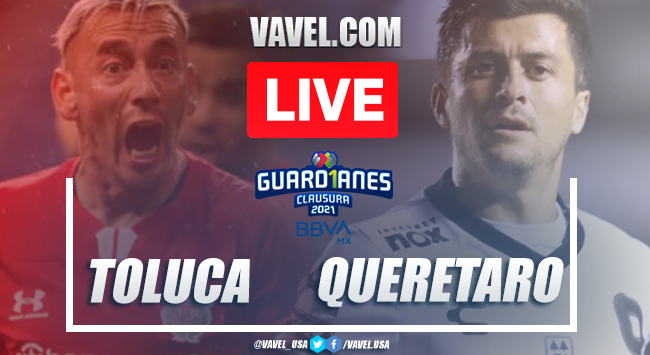 Thank you for tuning in
Goals and Highlights
95' The game is over!
94' Gil Alcalaavoids the fourth goal!
Compensation time
91' VAR decision
88' VAR Review
83' Already generated danger
82' New modification by Queretaro
78' Toluca makes modifications
74' Toluca change
73' Medical Care
The third goal of Toluca
67' yellow card
64' Change of Queretaro
63' Toluca goal!
60' Queretaro's Attempt
57' Toluca Shoot!
56' Danger in the Toluca area
52' yellow card
48' Queretaro tries to answer
The second half starts
End of the first half
Toluca's goal
45' Compensation time
Toluca's goal
36' yellow card
32' Toluca goal!
30' Toluca goal!
Queretaro's goal
23' Queretaro Goal!
22' VAR decision
19' VAR Review
17' yellow card
12' VAR Review
10' Queretaro Goal!
5' Now answers Queretaro
1' First approach of Toluca
The game begins
Line up Toluca
Line up Queretaro
Toluca warm up
Ready plumage
Toluca has arrived
First experience in the First Division as head coach
Queretaro on the way to the stadium
The "Hell" is ready!
Don't leave here
Last match between Toluca and Queretaro
How to watch Toluca vs Queretaro Live TV and Stream
Player to watch: Queretaro
Player to watch: Toluca
Queretaro signs up Ecuadorians with a European past
Toluca reinforces midfield
A new era for Toluca and Queretaro
Kick-off time
Good afternoon to all VAVEL readers!