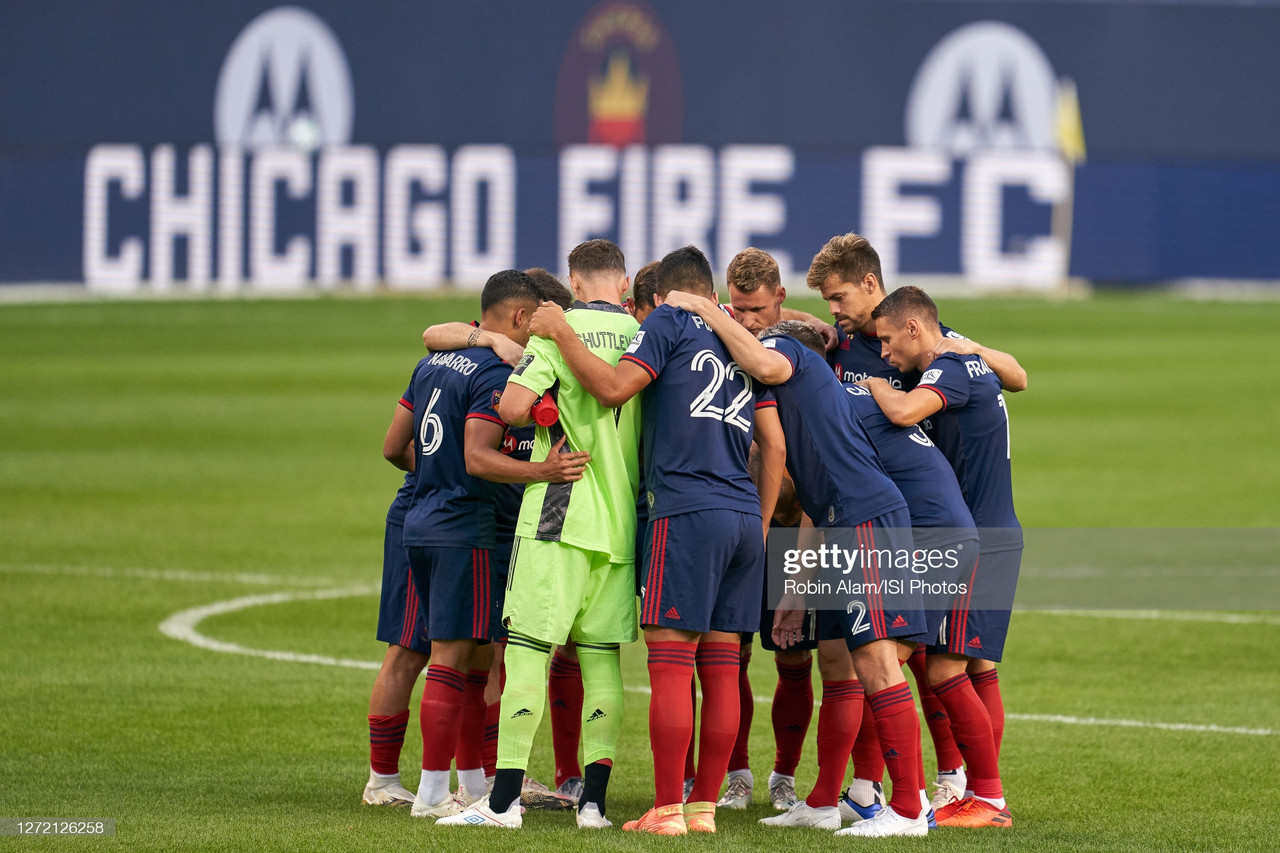 After 160 days away, the Chicago Fire will finally return to competitive action this Saturday as they'll host the New England Revolution at Soldier Field.
It's been a strange few years for the club. They've undergone new management, moved to a new stadium, and even rebranded. Chicago also made a coaching change during this time, while pretty much overhauling the roster as well.
All in all, things have been pretty chaotic. With so much change going on, it's hard to know what to anticipate from the Fire this season. The only thing that fans have gotten used to expect is the unexpected.
However, even with all the uncertainty surrounding the club once again, there are a few things supporters should see coming this year.
Duality
This Chicago team isn't bad, but it isn't too great either.
There's plenty of genuine talent on the roster. Robert Berić had a solid debut season last year, especially near the end of the campaign, scoring 12 goals in 23 appearances. Álvaro Medrán and Gastón Giménez developed quite the partnership in midfield, while homegrown signing Mauricio Pineda was arguably the Fire's best player.
With new signings like Stanislav Ivanov (who will hopefully be able to make an impact near the end of the season after recovering from injury) and Chinonso Offor, and the likes of Johan Kappelhof and Luka Stojanović finally fully fit, there's reason to be optimistic.
However, there's also plenty of holes in the team. Bobby Shuttleworth will be the starting goalkeeper this year, and even though he was impressive at times last campaign, he's still not the most reliable option.
There are questions at fullback as well, as Jonathan Bornstein is 36-years-old while Miguel Ángel Navarro and Boris Sekulić can't be fully trusted defensively at the moment. Then there's Francisco Calvo, who is a great leader but isn't as great of a defender. He's quality at times, of course, but he's also capable of making a mistake at any given moment.
Further up the field, Ignacio Aliseda and Przemysław Frankowski are both curious cases. Each has had a solid preseason, but neither showed any real consistency last year. Since Ivanov will miss a large chunk of the campaign due to his aforementioned injury, Fabian Herbers is the only other proven goalscoring threat alongside Berić if Offor flops.
The rest of the squad is made up of either average players or youngsters who won't be able to do much just yet. Chicago really should have made a few more signings this past offseason, but they could rectify that by bringing in the right names in the summer if the team's still contending for a playoff spot.
Then there's manager Raphaël Wicky. Due to the circumstances of last season, it's tough to accurately judge his first year in charge. Wicky made some mistakes early on, like constantly changing between formations and using players in the wrong positions. However, the good thing was he learned from these errors, and the team looked more settled down the stretch as a result. It wasn't enough for Chicago to make the playoffs, but there were signs of improvement at least.
All things considered, everything should eventually balance itself out, leading to a likely record close to .500. Maybe the Fire will go on an extended winning streak at home to celebrate the return of supporters to Soldier Field. Maybe their road woes will continue and they'll go winless away from home. Maybe both will happen.
Just don't expect them to feature at either end of the table.
Apathy
It's still going to be hard for many fans to genuinely care about the team this season.
The club's announced re-rebrand has been a step in the right direction. They've kept supporters involved and informed throughout the process, and there's a genuine reason to believe that the new logo will be one that can get everyone back on the same page.
However, in 2021, Chicago will still be using the embarrassment that is their current logo, which will stop many from getting too emotionally invested in what is going on. The club will also continue to wear blue jerseys at home, which may not matter to some, but will drive plenty of others mad due to its rejection of tradition.
Simply put, this isn't their Fire anymore. That might seem a bit sappy and emotional on the surface, but it's a feeling that's justified. The old front office did so much to drive the older fans away that even though many of those people are now gone, so are many of those same fans.
It's not like the club will become completely irrelevant. Many will still watch their games or attend them in person, and there's a good chunk of supporters who just can't stop caring no matter what Chicago does to them.
However, for plenty of others, watching the Fire this season just won't be the same.
Playoffs
All things considered, this team needs to qualify for the playoffs.
Last year's disappointing campaign was excusable due to the various factors surrounding the season. There was a lot for Chicago to adjust to, like their new head coach, new stadium, new branding, and the bunch of new players that they had acquired in the offseason. That task became much tougher due to the COVID-19 pandemic, though, so no one could really be blamed for the relatively poor performances.
This season is different, though.
We're still in a pandemic, of course, but we've been in it for over a year now. Then there's the fact that literally, everyone else has to deal with similar circumstances, if not worse ones, like the Canadian teams who are forced to play their home games in a different country.
This season may not be too important to some people, but that doesn't mean that the results simply won't matter. The Fire has been too bad for too long, and it's time for the club to restore some sort of winning culture.
It's not like making the playoffs in MLS is the toughest task in the world. Half of the teams in the Eastern Conference will qualify for the postseason in 2021, which means that Chicago could absolutely get in with an average record. The opposition they have to go against isn't the best either, as the East is a bit of a mixed bag at the moment, with only a few legitimate contenders.
There needs to be pressure put on the Fire to make the playoffs due to the fact that they haven't been there since 2017. Even that campaign was almost completely spoiled by its embarrassing ending, though, as the team lost 4-0 at home to the New York Red Bulls. The last postseason victory came all the way back in 2009, which goes to show just how long Chicago has been underperforming.
Making the playoffs should be the benchmark for the Fire, and that could ultimately decide if this season is deemed a success or a failure.