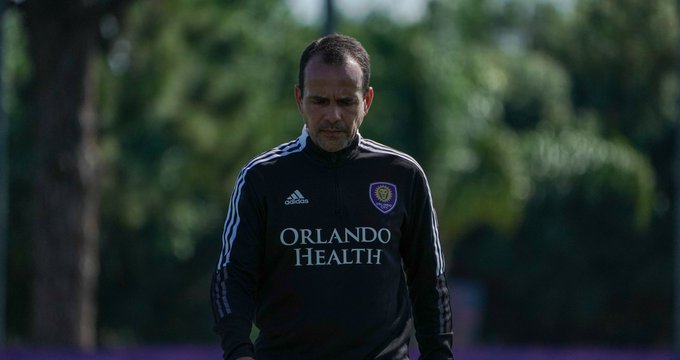 Orlando City returns home after a difficult game away vs Sporting Kansas City at Children's Mercy Park. A game where Orlando City arguably dominated the game in every aspect, except the goal difference, as that match ended 1-1. This was a high-energy, end-to-end game that gave the feeling of watching a grand slam tennis match final, the ball was simply flying back and forth from end to end.
Based on last year's final league standings, this was an East vs West heavyweight fight, as Sporting KC finished top of the table in the western conference and Orlando finished 4th in the east at the conclusion of the 2020 MLS season. In this game, offside calls and VAR reviews ultimately took more goals off the board than we finished the game with. This was by no means a poorly officiated game, it was handled very well by the officiating MLS crew. Eventually, VAR put a goal back on the board that the crew had initially called offsides in the 80th minute. This is when Orlando Captain and Portuguese international Nani cleverly put a backheel in the goal, while cheekily looking over his shoulder. If you haven't seen this goal - take the chance to watch it - it basically summed up the entire game in one moment, pinball action of a moment.
Looking Towards the Next Match
FC Cincinnati will come to Exploria Stadium after playing their last game against NYCFC, and it was a game to forget if you are a Cincinnati fan, player, or anyone who lives in that area. Not even sure I would consider it a contest as the final whistle blew and they had lost 5-0 to NYCFC. Hard to find positives from that type of match. What do you say? "Well boys at least they didn't get six!". For second-year coach Jaap Stam, officially introduced as head coach on May 22nd, 2020, he will do his best to have his team ready for the humid Saturday night fight in Orlando, FL. It will take all this team has to keep pace with the high energy, quick attack from Orlando City, and noise of the supporters that will do their best to fill the stadium, at least as much as COVID-19 restrictions will allow.
The City fans will be out in full effect and we anticipate the wall of supporters to be pumped up as they will surely be anticipating this to be Orlando's 1st win of the season. Orlando has never lost to FC Cincinnati in their two previous meetings with the expansion team. Laying a 5-1 thumping on the team in their first-ever meeting in May of 2019. The two teams later shared the points in their second meeting, a game that ended 1-1 in September of the same year. I am hoping for a loud smoke-filled evening from the City faithful, as Orlando will look to score often on this team.
The Current State of Orlando City
Alexandre Pato is still anticipated to be out for a few more weeks after suffering an awkward knee injury during the season opener vs Atlanta United, where he stepped on the ball attempting to escape a challenge. Also, listed as questionable for this match are Oriel Rosell, Robin Jansson, and Joao Moutinho, all returning from injury. Breakout USMNT striker Daryl Dike is still out on loan across the pond. The loan is expected to end on May 3rd, however, there is great interest from some of the big-name clubs in Europe, as one offer has already been rejected by Orlando City in the $10 Million dollar range. MLS has since put a $20 million dollar price tag on Dike, which at this point seems like a bargain. Dike joined Barnsley F.C., a team that was near the bottom of the FA table in England and sinking fast, they now currently sit 6th in the standings by winning four (4) of their last five (5) and Dike has nine (9) goals in 17 appearances for the team.
Coach Oscar Pareja should now be settled into this Orlando team, as they exceeded external expectations last year, finishing 2nd in the "MLS is Back" Tournament and making it to the second round of the MLS playoffs. With or without Dike, and the current injuries, he has a team on the field that is good enough to compete with any team in MLS. He will now be looking to instill this winning mentality and confidence in a team that has historically underperformed.
Their best MLS season until last year was their first season in MLS with Brazilian international, Kaka, and coach Adrian Heath. City finished 7th in the east that season just under the playoff line. Pareja the 4th winningest active coach in MLS has proven he is the right man for the job and has the right pieces in place. The additional attack they added late last year, and in the offseason should help this goal threat of a team. A team that averaged 1.78 goals per game last year, and is pushing to be even more dangerous on the pitch this year.
Predictions for the Next Match
Our prediction for the final score of this one is 3-1. We think FC Cincinnati gets a goal off a cheap midfield mistake. As Orlando City is still trying to learn to play from the back they have made questionable and sometimes inexcusable mistakes for this level of soccer. One of those will inevitably cost them again in this game as it did the last one against SKC. However, ultimately they will take the 3 points and build off of the first early-season win.
"City, you are my best friend, and I will follow you until I am not able". Until the post-game story - I will see you in "The Wall"