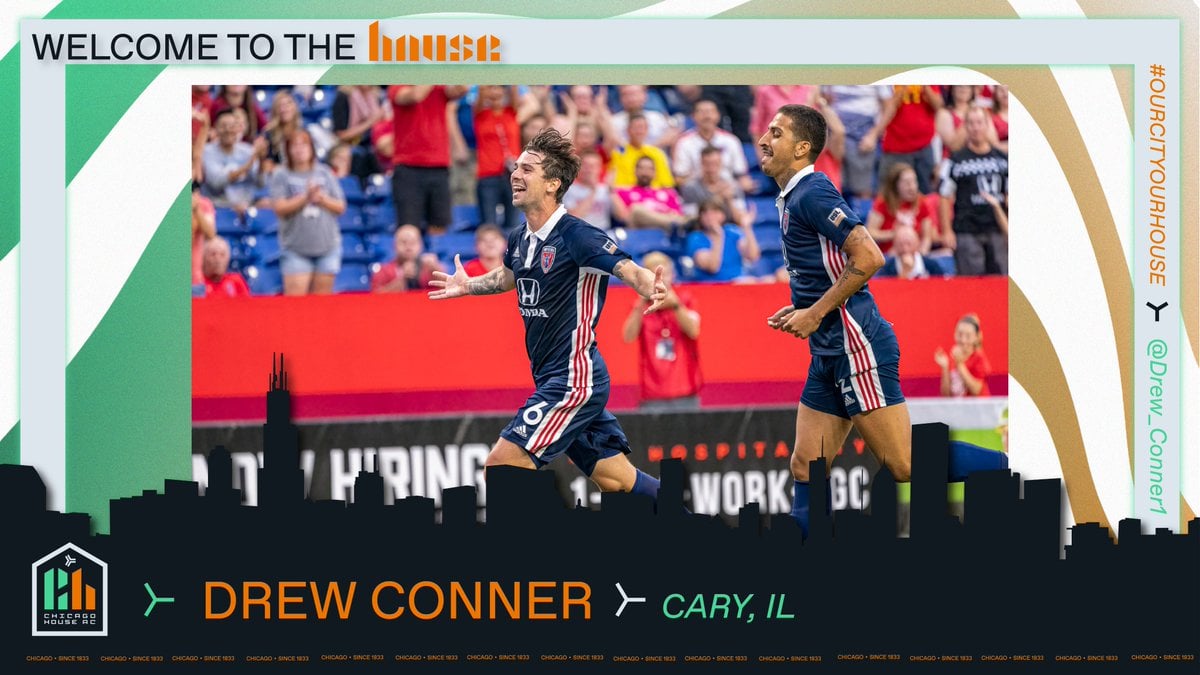 It's hard to describe just how excited Drew Conner is.
About a week ago, Chicago House Athletic Club announced the signing of Conner, who became the club's first ever player in the process. The news created quite the buzz on social media amongst fans already familiar with soccer in the city, ramping up anticipation ahead of the team's debut later this fall.
It's a sentiment that the player and the club share, and all parties involved are now looking toward a future full of promise and potential.
Context
Who exactly is Chicago House, and why is this news so important?
The House is the latest professional soccer club in the Windy City. A part of the National Independent Soccer Association (NISA), a third tier league, the team will start playing sometime this fall at SeatGeek Stadium in Bridgeview, the former home of the Chicago Fire and the current home of the Chicago Red Stars. The club were founded in part by Peter Wilt, who also helped create the Fire, the Red Stars, and other clubs like Forward Madison and Indy Eleven.
On the surface, the club's name does seem a bit strange. However, the origin of the moniker is much more personal to the city, as it celebrates Chicago's history of house music. That's where the genre rose to prominence, and it's still continuing to rise in popularity in the area to this day.
The moniker has some added importance as well, as it was decided on by fans and users on social media. After accepting submissions, the club chose 68 of them and put them into a bracket, with each round settled by an online vote. Despite strong contenders like the Chicago Skyline, Chicago Malört, and the Chicago Raccoons, Chicago House eventually won out. "I was praying that House was going to win the whole time," said Conner. "That was my favorite name throughout."
Conner, meanwhile, is a name plenty in Chicago will recognize. Signing with the Fire as a homegrown before the start of the 2016 season, he made his breakthrough the following campaign. He became a part of the side that finished 3rd in the Eastern Conference and made the playoffs, often appearing off the bench or starting when others were hurt. However, it all went south in 2018, as limited chances in the team and untimely injuries meant that the American didn't play much, and he was eventually let go by the club at the end of the year, much to the chagrin of supporters.
He's back in Chicago now, though, and he's ready to get to work.
Everything comes together
This story is an especially remarkable one considering the fact that Conner was nearly out of soccer entirely.
After being let go by the Fire, he went on trial at fellow MLS side Minnesota United. On the final day of that spell, just as it seemed like he was about to be signed, the club decided to turn him down. As a result, Conner went to Europe, but he didn't find much luck at first.
"I went on a couple of different trials, but none of them came off for one reason or another," said Conner. "I was actually pretty close to retiring, but my agent was able to get me training with an Austrian team. They wanted me to play with another team until (the following) January when their season started, so I joined Indy Eleven, where I ended up staying for two years."
The move to Indianapolis is what got Conner back to playing in the United States, and got him playing regularly once again. His time there got off to a dream start, as he scored twice in his second game for the club, but he would become a free agent after two seasons.
That is what opened the door for the House. (Pun somewhat intended)
"I had other USL Championship offers, none of which got me excited. I took my time. I weighed up my options," said Conner. "When I initially spoke to Peter (Wilt) about the House, that became more attractive to me, in terms of finding a deeper meaning for playing. Coming back to Chicago and being a part of something that's going to be bigger than I am excites me. The idea of coming back and being a part of a project and starting something new was really exciting."
The club are just as hyped about the signing. "Drew and the House are a great fit," said Chicago House managing partner, president, and CEO Peter Wilt. "I've known Drew since he was in the Fire Academy and [I] previously tried to sign him with Forward Madison. I'm thrilled the circumstances aligned this time to make him our first official player signing. Chicago soccer fans already love Drew from his time with the Fire. He is motivated to help bring his hometown of Chicago a championship with Chicago House."
The fit could arguably not be any better. "It literally feels perfect," said Conner. "My friends laugh when they talk to me about it because they can't believe I found a team that sums my life up. It's soccer, it's Chicago, it's house music."
Each of the three components have played a key role in bringing him to the club.
The most critical one is the city itself. Born and raised in Cary, Illinois, Conner has almost always been near or around Chicago. He played in the Fire's academy as a youngster, and after a four-year spell at the University of Wisconsin-Madison, he made the jump up to the first team. After eventually returning to the United States following his aforementioned European journey, he was still close to the Windy City since he was playing for Indy Eleven.
"Chicago soccer culture has always been very important to me. It's what raised me. It's what made me the man and the player I am," said Conner. "I'm excited to be back there, man. I want to help reunite some of these Chicago soccer bonds."
Then there's the sport itself, where Conner believes the House will be able to help make connections with those in the city. "There's an abundance of talent in the Chicagoland area that's untapped. The team is doing their best to sign local players. There's potentially the next big soccer star in the city that's not being used properly. This club will provide players with a vehicle to grow and build their dreams. It's super cool, and I think it's a new avenue for kids to pursue professional soccer."
Last, but certainly not least, is the club's name. An avid fan of house music himself, Conner recognizes just how bright the future is in terms of what the team can do with the moniker. "It feels like there's limitless marketing potential with the club. The opportunity for marketing and branding with music and soccer is huge. Soccer and music have always played a part together. There's a whole 'nother aspect to it, and I think this team could alter and change American soccer culture. It's going to be a new experience for people for sure."
Conner recognizes the importance of him being the first signing in House history, and he's already trying to make the most of the opportunity. "I'm really grateful to be the first signing. It's cool to make a little bit of history," said Conner. "Signing me first is like putting up the Bat-Signal. It's going to open doors. I've had a lot of guys reach out to me, guys with MLS experience. I think people are going to be pretty blown away with the signings that could be on the way."
However, all of this hype and anticipation will fly out the window if the House are unable to be successful. Chicago is a sports city that always expects certain things from their teams. They should be winning, but if they can't, then they should at least be trying hard to. Considering that neither has been the case with the Fire in recent years, there's a chance that the House can take the area's soccer fan base by storm with what they do both on and off the field.
"We just gotta go out and win. We gotta go out and fight. We gotta put out a product that fans will be proud of and can relate to," said Conner. "This team has pretty high ambitions to give back to the community. You'll see a lot of interaction and ways for the team to give back to the community and to get them involved."
All things considered, Conner will be looking to help turn this House into a home for Chicago soccer.