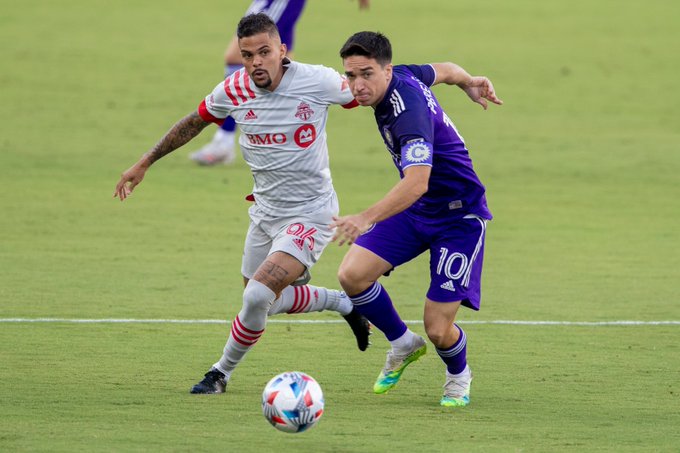 As the MLS season moves on with more and more venues expanding their capacity allowing fans and supporters to fill the seats, this game had to have been weird for the visitors Toronto FC. The Canadian based club is not yet allowed to return to their home field and has been training in Florida and playing "home" games at Orlando's Exploria Stadium. There was no doubt who was the home team for this game as the sold out 50% capacity stadium was all purple and ready to go. Important to note that the Wilf Family was in attendance for this game, as they are looking to complete their estimated $400 million dollar purchase of Orlando City, the Orlando Pride and their other soccer assets including Exploria Stadium.
Nani's suspension made room for Orlando newcomer Silvester Van Der Water to be inserted into the starting line up for the first time this season and his talent was made evident early in this one. As the lone goal in this match came from an assist off the Dutchman's boot. As the ball went out wide, Van Der Water tracked it down, a simple but effective pull back to create the smallest of space ended up being all he needed to send a cross into the six yard box with both Junior Urso and Tesho Akindele crashing the Toronto keeper who was frozen as the ball found the head of Tesho and then the back of the net, 1-0 Orlando 12' min.
Toronto proved they are a dangerous side as they created chances and danger down the left side with their DP Yeferson Soteldo. His speed, and skill proved on multiple occasions almost too much for the Orlando defense, forcing them into awkward defensive shapes. Even pulling OC keeper and Peruvian number 1 Pedro Gallese, out of goal and out of position, where Soteldo then went right around him and his shot was only saved by a goal line clearance by Robin Jansson, who was also making his first start for the 2021 MLS season.
Orlando held onto the early goal and took the 1-0 lead into halftime. Toronto would have been disappointed to not have a goal, especially after their 30' min attack that led to an awkward save by Gallese that came off a deflection of one of his own men in the box, and he was able to hold his position for the clearance. The midfield play of Ecuadorian Sebastian Mendez must be noted as well improved. He has been a revelation and critical to the success Orlando has seen this year. His anticipation of the opposing team's passes and his ability to step into the lanes and force turnovers is a major reason why Orlando is one of the top defensive teams in the league, only allowing two goals so far this season.
The second half started and Toronto would be looking for the same magic from their last game when they came back from down 1-0 to walk away with a draw. However, the older legs of Toronto appeared to show. Toronto has one of the highest payrolls and oldest lineups in MLS, and the age and slower first step appeared to show in the second half. Soteldo continued to create chances and really had his own way on the left side, but every cross and pass to the box, just seemed to not find a Toronto player as an Orlando player was either in a better position or simply beat them to the ball. Late drama again occurred as Soteldo almost proved too much for Orlando, with a 90'+5 min shot that forced a save by Gallese that he had to put over the crossbar and give up Orlando's ninth corner of the night.
Ultimately, the Lions held on to their 1-0 win and remained second in the Eastern conference with 12 points from their first six matches. The overall possession of the game was split 50/50 but Orlando continued to give up too many set piece opportunities. Toronto had nine (9) corners in this game and they gave up 10 corners last week to DC United. Toronto also managed 19 shots forcing six (6) saves, four (4) from their keeper and two (2) goal line clearances by Jansson and Rodrigo Schlegel.
Toronto's playmaker and goal scorer Alejandro Pozuelo who has been out of action since March 15th with no word yet on his return changes this team completely. They clearly missed him in this one as their longtime USMNT midfield maestro Michael Bradley and USMNT attacking threat Jozy Altidore didn't have enough to help Toronto with this one. Oddly as well their new signing, former Orlando City forward Dom Dwyer, was missing from the lineup. Orlando was missing RB Ruan, however the ability to move Kyle Smith from LB to RB has been a great asset to the Orlando defense as well as Schlegel's ability to play LB for this game, and make yet another save, this one with his feet off the goal line in regular time. Daryl Dike loan with FC Barnsley is over at the end of the month, however he has been called up to the USMNT camp and will not be eligible for Orlando until at least June 14th. Tesho has been a good fill in, but his finishing ability at times leaves chances unclaimed. Tesho had two (2) other chances where it was him vs the keeper, one he put wide and the other didn't really trouble Toronto keeper Bono.
Orlando's forwards Chris Mueller, Benji Michel and midfielder Andres Perea each put in a quality performance. I am sure they each were playing with a bit of a chip on their shoulder as they were not selected to the most recent USMNT camp. However, Mueller still seems to be missing something this year on the field. It will be interesting to see how the attacking lineup takes shape, when Nani is back and if Van Der Water's play stays as consistent as this first start, where would Mueller fit?
Orlando will be traveling to New Jersey to face the NY Red Bulls next Saturday for a 1pm kick off time. The Red Bulls are coming off of a loss to the #1 seed in the eastern conference, New England Revolution, who came from behind to beat the Red Bulls 3-1. NY would for sure consider their season so far a disappointment as they have just six (6) points from their first six matches with only two wins and four loses.
Orlando however is looking to continue their best ever start winning three of their first six and drawing the other three. Keys for Orlando will continue to be the all out hustle of their defense and their willingness to sacrifice everything for the team which has resulted in only two (2) goals allowed this season, the best of all teams in MLS. Urso and Mendez have been a force to be reckoned with as a double pivot sitting just in front of the back four (4), relieving pressure, controlling the ball and allowing the attacking talents or Mauricio Pereyra in the midfield to keep Orlando dangerous. Expect Orlando to look to score early again vs the Red Bulls and look for them to get more than one goal in this one to help relieve some of that pressure on their defense.