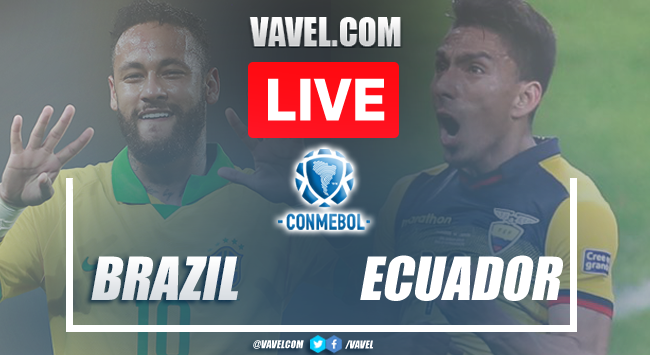 Highlights and goals
90:00+8 | End of the game
90:00+4
90:00+2
90:00
89:00
84:00
80:00
76:00
75:00
73:00
69:00
65:00
61:00
60:00
55:00
50:00
45:00 | Second half
45:00+3 | Halftime
45:00 | First half
42:00 | First half
40:00 | First half
36:00 | First half
35:00 | First half
30:00 | First half
27:00 | First half
25:00 | First half
20:00 | First half
15:00 | First half
10:00 | 1H
05:00 | 1H
00:00 | 1H
This is Ecuador's starting eleven
Brazil's lineup is ready
The home team recognized the field
The visitor has entered the arena
Improbable high-score victory
Victory over another heavyweight
The Canarinha is now at the Beira Rio
The qualifiers are back!
Latest faceoff
Follow it here
Who you got?
How to watch Brazil vs Ecuador Live TV and Stream
Ecuador call-up list
Brazil call-up list
They want to make a statement
To mantain the perfect streak
Nine out of nine
Key player Ecuador
Key player Brazil
Fight for the top
Good afternoon to all VAVEL readers!