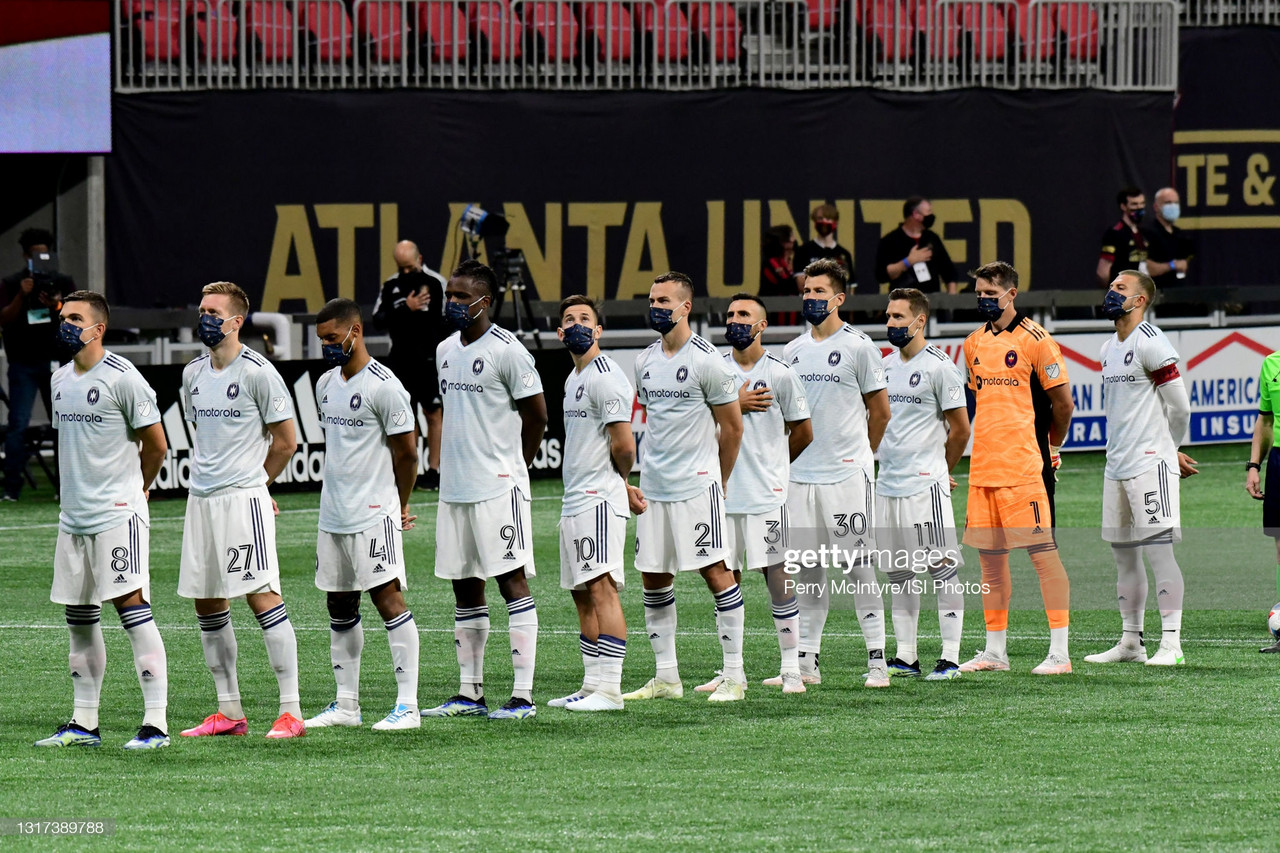 The Chicago Fire are down bad.
Their start to the 2021 campaign has been a dreadful one. They've only picked up four points from their first seven games, and they've scored a meager four goals during that time as well.
It's another poor opening to a season, and many supporters are already beginning to panic as a result. Their worries are justified, though, as Chicago have been pretty bad for a while now, and it seems like this year could just be more of the same.
However, it's not quite all doom and gloom, as fans still have a few reasons to stay somewhat optimistic as the team heads into the summer months.
The curious case of xG
The Fire have been bad, of course, but they might not be as bad as the standings currently indicate.
They've played well in their last two outings, and they were clearly the better team in both. Oddly enough, Chicago were better in their loss versus Montréal than they were in their win over Inter Miami, and they were only victorious in the latter contest due to a goalkeeping error.
It's all just been a bit strange, and that's not even considering xG and xGA.
In simplest terms, xG (expected goals) and xGA (expected goals against) are statistics used to measure how many goals a team should have scored and conceded in a game. It's not a perfect system, of course, but the numbers tend to show which teams are playing well and which aren't.
When it comes to xG and xGA, the Fire are actually doing quite well. They've got the 6th best total xG in the Eastern Conference, and the 5th best total xGA. It's in total xGD (expected goal difference, which is xG minus xGA) where the team really shine, as they are 4th in the East in that department.
If games were decided by xG, then the Fire would have 12 points instead of the 4 they have now.
What does this all mean? In terms of the actual standings, absolutely nothing. On the field, though, it makes it clear that Chicago have been good at times, they just aren't finishing enough of their chances, while the teams they are up against are. Unfortunately, there's no real easy fix to this problem, as the Fire simply have to start converting in front of goal.
You obviously don't win anything in soccer by only playing well, of course, but it's a promising sign that the Fire are putting together decent showings. If they can keep this up, and improve in the areas they need to most, then it'll only be a matter of time until the results start reflecting their performances.
The emergence of Brian Gutiérrez
Few would have expected to see this much of Brian Gutiérrez this soon.
The homegrown made his first team debut last season, and he had six appearances over the course of the campaign, but he played less than 30 minutes in total. That was understandable due to his age, though, as he was seen as a talent for the future.
It seemed like a similar story was going to unfold this year. He was kept on the bench for three out of Chicago's first four games, and his only showing was a 21 minute cameo against the New York Red Bulls when his team was already down 2-0.
However, that all changed a few weeks ago versus D.C. United. In an attempt to shake things up and create some sort of spark, Fire head coach Raphaël Wicky made some alterations to his starting eleven, one of which being the inclusion of Gutiérrez.
He made the most of his chance in the lineup, and he was arguably Chicago's best player on that day. That performance meant that he kept his spot for the following two fixtures, and even though he's not been as superb, he's still shown plenty of promise since then.
Gutiérrez is just a livewire in midfield. Not afraid to get on the ball, he's usually involved whenever the Fire venture forward. He knows what to do with it as well, as his dribbling ability allows him to create opportunities for himself and teammates. The homegrown is also useful off the ball since he uses his intelligence to find space in the final third, which is especially impressive considering his age.
Some may think that it's concerning that one of Chicago's best players this season has been a 17-year-old. That's a fair point, as the underperformance of the senior players has allowed Gutiérrez to shine by comparison. However, that shouldn't take anything away from what he has done, as he's stepped up when others haven't.
He used to be seen as a player for the future, but it's clear that the homegrown is now a player for the present as well.
Some defensive stability
Chicago's biggest concern at the start of the season was their defense.
They gave up nine goals in their opening four games of the campaign, and some of the goals they conceded were quite ugly. It didn't seem like there was much structure at the back, as Wicky was either using the wrong players, or using the right ones in the wrong positions.
There's a chance that things could be changing for the better, though. In their last three matches, the Fire have only allowed two goals, which is a solid enough return. It's not like they're being bailed out by elite goalkeeping, either, as they've not really given up too many chances, especially in their last two contests.
One potential reason why is Wyatt Omsberg. His rise is a somewhat surprising one, as not much was made of his arrival to the club last season, and he didn't feature much early on. Wicky decided to give him a chance this time around, though, and the center back has repaid the faith put in him. He's not perfect, and he was mainly to blame for the goal given up against Montréal, but he's still brought some added strength and stability to the backline.
He's not the only one who deserves credit, to be fair. Francisco Calvo is acting like a central defender again, and he's not making nearly as many mistakes as before. Fullbacks Boris Sekulić and Miguel Navarro, meanwhile, have grown into their roles, as they are playing smarter and making sure they aren't caught too high up the field too often.
The Fire are still far from being elite defensively, of course, and there's a lot of work left to be done. However, their recent improvements in that regard should allow them to take more risks going forward, as they'll no longer have to worry as much about people tracking back at all times.
With this potential newfound balance, the team could actually become something, which should give fans some hope for the future.