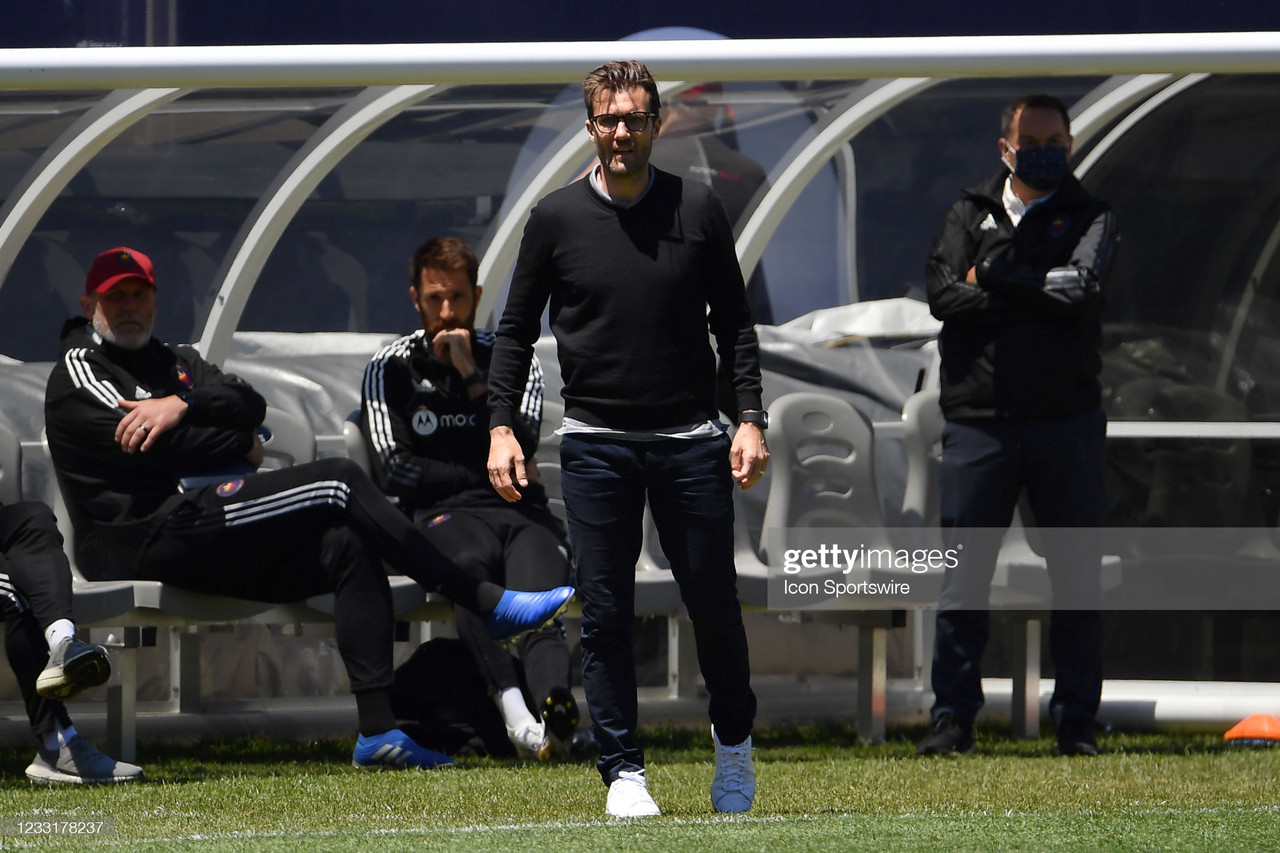 With Major League Soccer in the midst of a hiatus due to the international break, teams across the country have been given time to reflect on their respective starts to the season and plan for the summer months ahead.
The Chicago Fire are no different. If anything, their woeful beginning to the campaign has meant that they have even more to think about. Things need to improve, and they need to improve soon if the club wants to make this year a successful one.
One potential adjustment that could lead to a turnaround would be to change the formation, and if the Fire are ever to do that, now would be an ideal time to do so.
Making the most of their personnel
Looking at the current Chicago roster, it seems like this team might be best suited to playing a back three.
The Fire have a bunch of good center backs, but they don't have a single elite one. The likes of Francisco Calvo, Wyatt Omsberg, Mauricio Pineda, and Johan Kappelhof are all decent, and they all excel at different things. However, they each have some sort of flaw that holds them back from being a top-tier defender. What better way to hide some of these individual issues than by putting another center back in the lineup? If one makes a mistake, then he'll have two teammates ready to help him out.
Then there are the fullbacks, who seem like they would be more effective as wingbacks instead. Both Boris Sekulić and Miguel Navarro are better going forward than they are tracking back. They love to join the attack, and they are able to make an impact on most occasions. However, this then leaves the Fire vulnerable defensively, especially if no one else is able to cover. With a back three in place, Sekulić and Navarro will have more freedom to push up the field on the wing.
Chicago would still be using three center midfielders as well, so little would change in that department.
Up top, Robert Berić would finally have someone to play off of. Despite the fact that he's only scored once this season, he's actually been alright. He's just being asked to do too much at the moment, though. The Designated Player often drops deep or drifts out wide in order to open up space for teammates, and this leads to chances for the Fire. However, since he's in different places, he can't stay in the penalty area, so he's unable to convert these opportunities himself.
With a formation change, Berić would gain a strike partner.
Chicago can go two ways with this. They could bring in a recognized forward like Chinonso Offor, who would pounce on the chances created by Berić, or they could turn to a more creative option like Ignacio Aliseda, who would allow Berić to focus on just scoring goals. Either way, the shift should add a new dynamic to the side going forward.
The Fire don't even have any proper wingers, so it's not like anyone will suffer from not being able to play in those positions. The likes of Fabian Herbers, Elliot Collier, and Brian Gutiérrez are more useful centrally, while Przemysław Frankowski could challenge Sekulić for the right wingback spot.
All things considered, the change would maximize the talent on Chicago's roster.
Sticking to their style
The Fire wouldn't even need to change the way they play too much.
At the helm for about a year and a bit, it's become apparent how Raphaël Wicky prefers to set up his team. He wants them to keep the ball, building out from the back and maintaining possession instead of launching passes in behind. Defensively, Chicago likes to pressure the opposition whenever possible. They might not utilize a full high press like Liverpool and Leeds United, but they certainly don't sit in deep too often.
Those two tactics would work as well, if not better, with a back three in place.
Passing out from the back is easier for obvious reasons. If the most central center back receives the ball, he'd have two other center backs as options instead of the usual one. There's just an extra body back there at all times, which would likely lead to more passing lanes being opened up for whoever needs it.
It's a similar dynamic when it comes to pressing further up the pitch. Due to their defensive issues, the Fire don't really send everyone forward when trying to win the ball since they want to make sure that they are solid in their own third. With the extra cover that comes with a back three, they would be able to properly put pressure on the opposition, as there would still be enough bodies back in case the initial press is beaten.
The formation change effectively allows Chicago to keep playing the way they are while also providing more safety in the areas that matter most, which seems like a win-win for all involved.
The timing is right
If the Fire are to make a switch like this, then now would be an optimal moment to do so.
They were off last weekend due to the international break, and they won't be playing this week either. Chicago doesn't have a game until the 19th, which means that they'll have plenty of time on the training field to work on different sorts of things.
One of those things would be transitioning to a back three formation. A shift like this isn't an easy one, as every player in the lineup has to adjust to the change. Either they'll be in a new position, or they'll have teammates in different areas than before.
Trying to do this in the midst of a regular matchweek could cost the Fire. If they aren't prepared by the time the next game rolls around, they'll likely look lost on the field, which would lead to them being beaten.
That's why doing this now makes the most sense. They don't have another weekend off until mid-July, and the next extended break in play won't come until the beginning of September.
It would also give Chicago the chance to save their season. After a woeful start to the campaign, there's already pressure on them to start picking up points. Continuing to play the same way might only cost them further, and any future change could just be too little too late. A shift in formation at this moment could spark a resurgence, leading to a promising summer period and a potential playoff run. Even if the decision doesn't work, the Fire would still have enough time to revert back to their old system and learn from their earlier mistakes.
You'll never know if you never try.