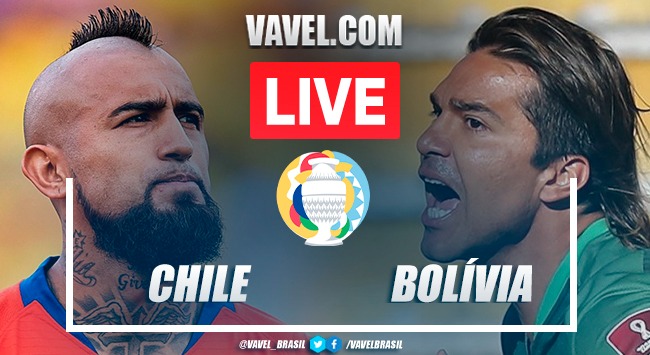 Live ended
Highlights
Bolivia's next game
Next round in Group B
Group B standings
Full time
Chile's goal disallowed
Addition time
Bolivia Substitution
Yellow card
Chile Substitution
Yellow card
Bolivia's near draw
Bolivia Substitution
Lampe makes good save
He missed the target
It hurts
Didn't like it
Chile Substitution
Poor header
The ball is deflected
Bolivia Substitution
Chile Substitution
Bejarano removes danger
Bravo avoids Bolivia's draw
Yellow card
Not like this
Lampe makes the save
Fallen on the grass
Full throttle
Restart
Locker room return
Halftime
No direction
Addition time
Over the goal
Lampe's quiet save
So close!
Double chance missed
Bravo
Blocked
Bolivia misses a great chance
Lacked control over the ball
Bolivia's first finish
Lampe defends
Oh my shoulder
And again
Lampe again
Lampe defends
First goal
Chile Goal
Bejarano gets it out of the area
Full pressure from Chile
Lampe saves
Deviation
Start
Are you ready?
Uniforms
Chilean anthem
Bolivian anthem
On the pitch
Return to the locker room
Final warm-up
Video assistant referee
Referees
Bolivia: substitutes
Chile: substitutes
Line-up: Bolivia
Line-up: Chile
Scaled teams
Arrivals at the stadium
Keep tuned for Chile vs Bolivia Live Score!
How to Watch Chile vs Bolivia Live TV and Stream?
Bolivia: Possible line-up
Chile: Possible line-up
Bolivia: Team news
Chile: Team news
Bolivian National Team roster for Copa America
Chilean National Team roster for Copa America
Bolivia aims to recover
Chile seeks first win on Copa America
Kickoff time
Welcome to the VAVEL.com's LIVE coverage of the 2021 Copa America match Chile vs Bolivia!