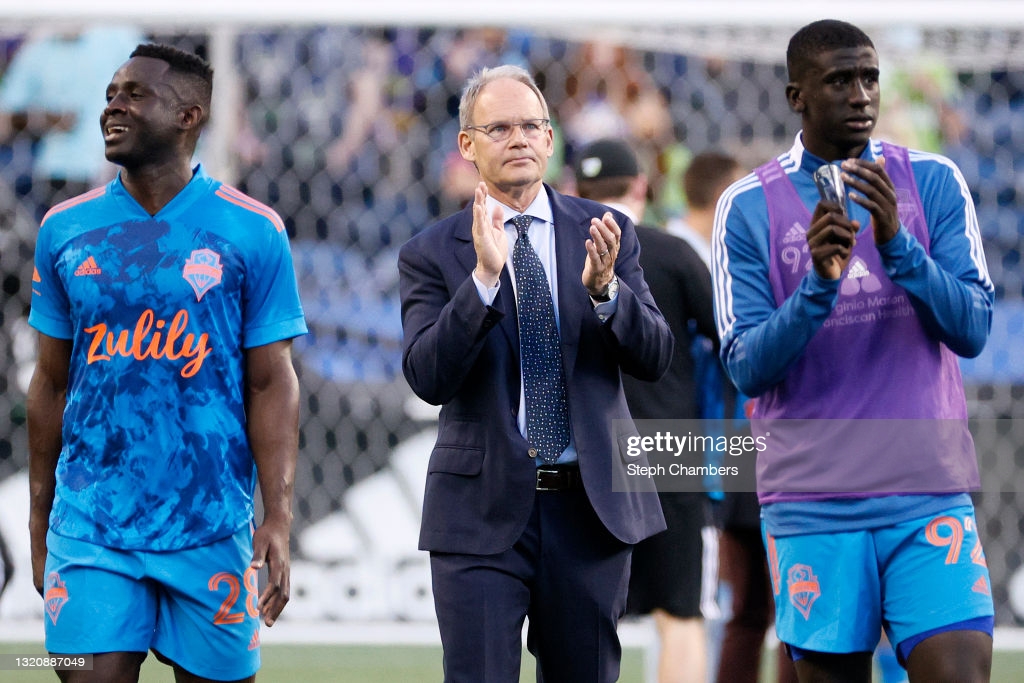 When teams lose key players, fans and pundits alike expect a drop off in terms of either performance or results. Without the big names or consistent performers, fringe players get their chance to impress, but often a teams' inability to put points on the board will be blamed on having to field inexperienced squad members.
So when Seattle Sounders lost playmaker Nicolas Lodeiro, goalkeeper Stefan Frei and defender Nouhou Tolo to injury early this season, many would have expected the worst. However, Brian Schmetzer's side currently sit top of the Western Conference and have the most points out of any side so far in the 2021 season, despite only having played nine games.
How have the Sounders managed to pull out the results without the spine of their squad?
Raul Ruidiaz's early return a welcome boost
To the surprise of many, Raul Ruidiaz was omitted from the Peru squad for their Copa America roster. Quite how this ended up happening is baffling to those Sounders supporters who watch him every week, but Peru's loss is most definitely Seattle's gain. Ruidiaz scored what turned out to be the winning goal in last weekend's victory over the LA Galaxy, whicb was his seventh of the season.
That goal put the diminutive Peruvian level with Javier 'Chicharito' Hernandez in MLS this season. It was also Ruidiaz's seventh goal in seven career regular season matches against the Galaxy, and he overtook Cristian Roldan's previous record for the most goals in club history against LA Galaxy.
Head Coach Schmetzer could not hide his elation after the game when asked about Ruidiaz. "Raul came back from Peru to be with us. We're very happy about that," he told the media post-match. "It puts a smile on my face. The fact he scored the winning goal puts a smile on my face."
Cleveland stepping up to the big leagues
One of the most costly injuries to the Sounders squad at the time of happening was that of perennial goalkeeper Stefan Frei. Injured in the away victory against San Jose Earthquakes, in form right back Alex Roldan actually had to step in for the final stages of the game back at the start of the season, with all the allowed substitutions used already.
From one Stefan to another, however - and Frei's name-sake Stefan Cleveland has really filled the void left by the experienced goalkeeper's injury.
The Ohio born goalkeeper has had to bide his time in Washington State, but his patience has paid off. He didn't play a single game in the 2020 season, but has come into start the last four fixtures since Frei's injury on May 12. He has kept two clean sheets and conceded only two goals, which has certainly given himself and the rest of the squad confidence that their season won't be derailed despite their first choice goalkeeper being out of action.
At this rate, Frei will have a struggle to dislodge Cleveland from the starting line up with his record so far. Schmetzer also paid tribute to the shot-stopper in his post-match press conference. "Stef Cleveland really deserves a lot of credit," he said. "I thought not just the one or two saves, but his overall handling of pressure moments was very, very good tonight.
"So yes, he's growing, he's a good young goalkeeper, good reactions, good saves, but what I liked was his mentality to manage the game. It was very, very good tonight."
A strong defence and counter-attacking play
One thing that has certainly worked in Seattle's favour this year is the formation switch from last campaign. Schmetzer is opting to play a 5-2-3/3-4-1-2/3-4-3 inversion, with three centre backs and wing backs meaning that when they sit deep without the ball, they are tough to break down.
The defense should get a lot of credit so far. Shane O'Neill, Yeimar Gomez and Nouhou have been rocks at the back, and even without Nouhou at the weekend their new signing Abdoulaye Cissoko slotted in at left centre back and looked assured on his MLS debut.
The wing backs are cruical to the Sounders' counter attacking play, with Alex Roldan on the right and Brad Smith on the left involved in many of the team's goals so far this year. Once the they win back possession, they get forward with lightening pace and when you add in Fredy Montero, Cristian Roldan and of course Ruidiaz, the Sounders are more than a match for anyone going forward.
The stats prove this, too. Against LA Galaxy, the Sounders had only 40% of the possession but had almost twice the amount of shots that their opponents had (eleven to six in Seattle's favour), but the most illuminating stat was that Seattle had more shots on target than the Galaxy had shots overall. Seven of the Sounders' shots were on target and of the six total shots that LA had, only two tested Stefan Cleveland.
This unbeaten streak could come to an end this Wednesday night against Real Salt Lake at Lumen Field, as squad rotation will no doubt be used (the Sounders are currently in the midst of three games in eight days).
However, there is no denying the fact that Schmetzer's team - despite being depleted in all areas - are still the only unbeaten side in Major League Soccer right now, and that is no mean feat.