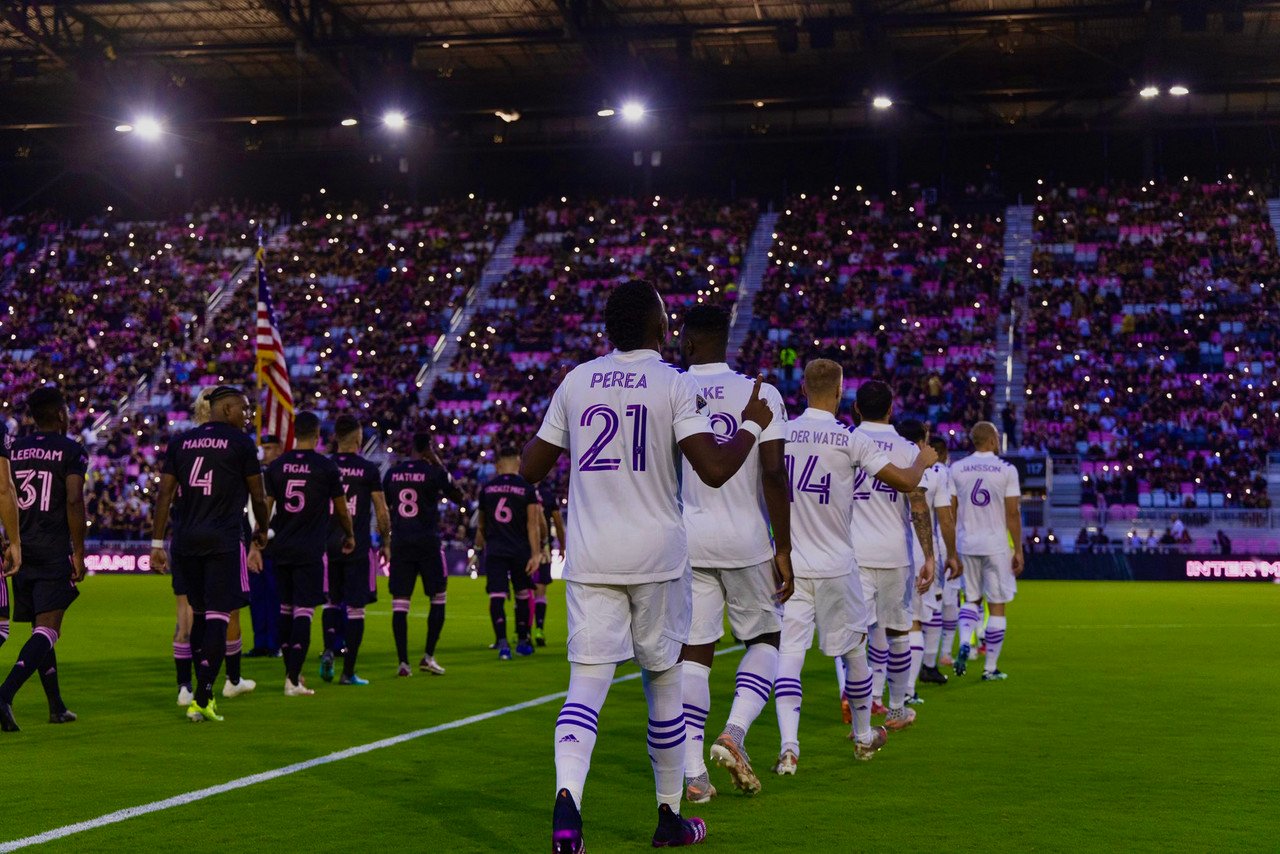 Orlando City fresh off a 5-0 thrashing of San Jose at home in Exploria Stadium midweek, where USMNT players Daryl Dike and Benji Michel both scored a brace. The Lions jumped all over the Earthquakes and took advantage of heavy legs of San Jose's cross country trip and made short work of them in this game. Orlando then travelled to south Florida to face instate rivals Inter Miami. Inter Miami was well rested after their last game, an away loss to DC United on June 19th. However, Miami is also a team searching for an identity and confidence, as they are yet to win this year at home, and are marred in controversy.
The game started slow and Miami in front of their home fans seemed to have a better grip on the game. They showed quality, created chances and had the better time of possession. Substitutions would make the difference in this game, as the first half ended with no score, Orlando's coach, Oscar Pareja made two (2) half time substitutions, bringing on Chris Mueller for the midfield Maestro Mauricio Pereyra, and Benji Michel for new comer Silvester van Der Water. As the second half started, the two subs seemed to find their way into the game, helping Orlando get wide and create attacking opportunities. Miami would counter with two attacking subs of their own, bringing in their big DP's Gonzalo Higuain, and Rodolfo Pizarro. Higuain provided an immediate spark scoring a goal on a great solo effort just six (6) minutes after coming on the pitch.
Orlando continued with their game plan from halftime, of playing wide and into space, and just six (6) minutes later, while the Miami supporters were still celebrating their goal, the Lions would equalize in a grand one touch play. As captain Nani, made a streaking run down the right side, he was picked out by Sweden center back Robin Jansson, Nani let the ball come down and sent a one touch arching pass into the middle of the box. Halftime substitution, Mueller was running hard into the box and put a one time finish past John McCathy and into the top left corner to even the score.
The next few minutes would be crucial as both teams looked for answers, Miami looked to continue to press and regain the lead, and Orlando looked for the energy to hold on at the end of a long week, with their third game in 7 days. Each team made another substitution after the Orlando goal, both for midfield players. And it almost paid off for Miami and back fired for Orlando. Miami's attack was threatening again in the final third, when midfielder Oriol Rossell made a key interception, however he also then promptly gave the ball away with a wayward pass and Miami was back in great position. The Orlando defense stood strong, and were able to get the ball clear. A slow counter then ensued, as Benji Michel took the ball out wide down the left there was very little pressure applied, he then laid the ball off for Nani, who continued one on one on the left. As he neared the 18 yard box, he simply had one fake inside, cut back to his right foot and shot from the very corner of the 18 yard box. McCathy had no chance as this ball curled perfectly into the top right hand corner of the goal and put Orlando up for good in the 80th minute.
When this game was over, the contrast between the two teams' players' emotions was very evident, was left frustrated, dejected and searching for answers. Orlando players were elated, confident but also exhausted. will get some rest as their next game isn't until July 3rd at home against the NY Red Bulls. The Red Bulls sit just below the playoff line in 8th place as they struggle to find form, with just 12 points from their first nine (9) games. Miami will go on the road to take on CF Montreal who sit two (2) places above Miami at 9th in the east with 12 points. Vamos Orlando!