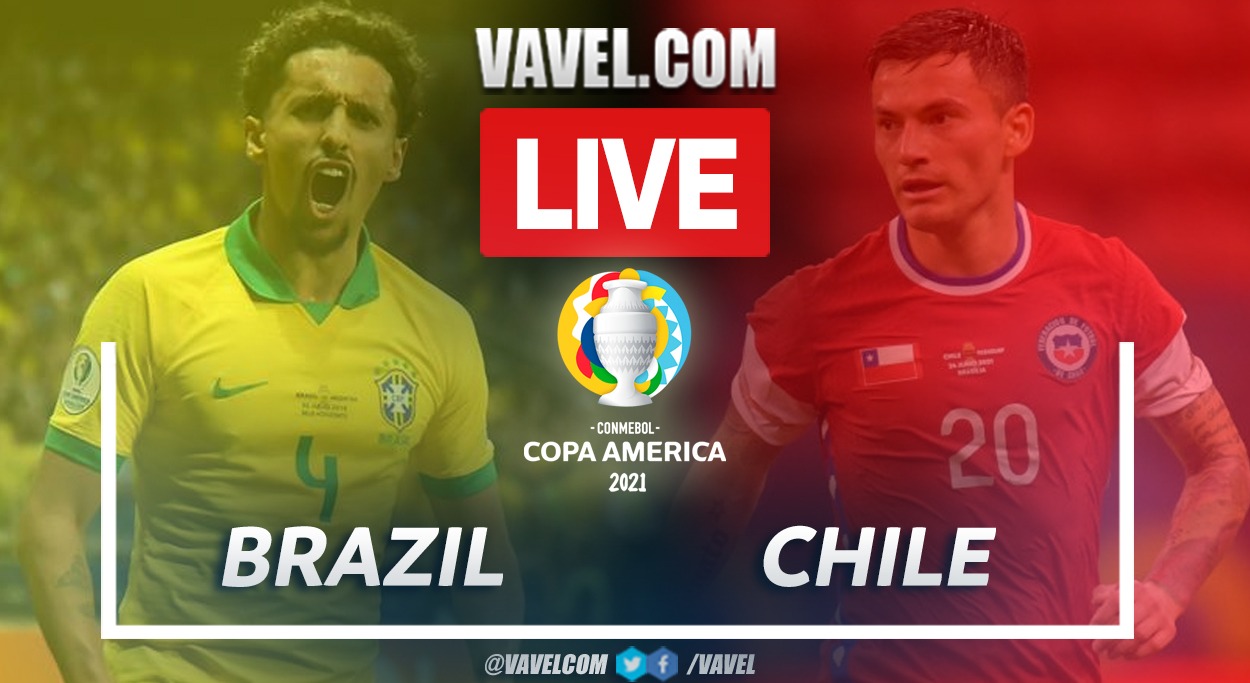 Highlights
Thanks
97' Match ends
95' Last minute
92' Chile's quick attack
90' Addition time
87' Last chances for Chile
84' Chile presses high
82' Brazil drags the ball away from its area
80' Last ten minutes
78' Brazil is saved
76' Control by Brazil
73' Dangerous foul for Brazil
71' Chile centers
69' Brazil is saved
68' Controlled ball from Chile without risk
66' Total possession by Chile
64' Substitution for Chile
62' A possible goal is analyzed in the VAR
59' Match with many interruptions
56' Brazil attack
54' Total possession by Chile
52' Dangerous shot by Chile
49' Gabriel Jesus is sent off!
47' Brazil goal!
Second half begins
46' First half ends
45' Addition time
42' The ball is being fought for in the midfield
40' Chance for Brazil
38' Local pressure continues
36' Brazil possession
34' Constant struggle in the middle
32' Chile regains possession
30' Brazilian dominance continues
27' Dangerous attacks by Brazil
24' Different styles of play
22' Brazil close to the first goal
20' Chance for Brazil
18' Game with no clear dominator
16' Chile's control in the middle
14' Brazil's first attack with space
11' Nervousness in the home team
10' Evenly matched fight in the midfield
8' Constant attacks by Brazil
6' Match with many interruptions
4' Chile generates danger in the opponent's goal
2' Shy possession by Brazil
Match starts
Captain's draw
The teams take the field
Condition of the playing field
Pre-competitive activities
Chile's starting eleven
Starting eleven for Brazil
Arrival of the teams
We start the Brasil-Chile coverage
Tune in here Brazil vs Chile Live Score
How to watch Brazil - Chile Live Stream on TV and Online?
What time is Chile-Brasil match for Copa América?
History between the teams
Chile's key player
Key player in Brazil
Chile's possible lineup
Possible starting lineup for Brazil
Referee team
Chile, with more doubts than certainties
Brazil arrives as favorite
Where will it be played?
Start of transmission