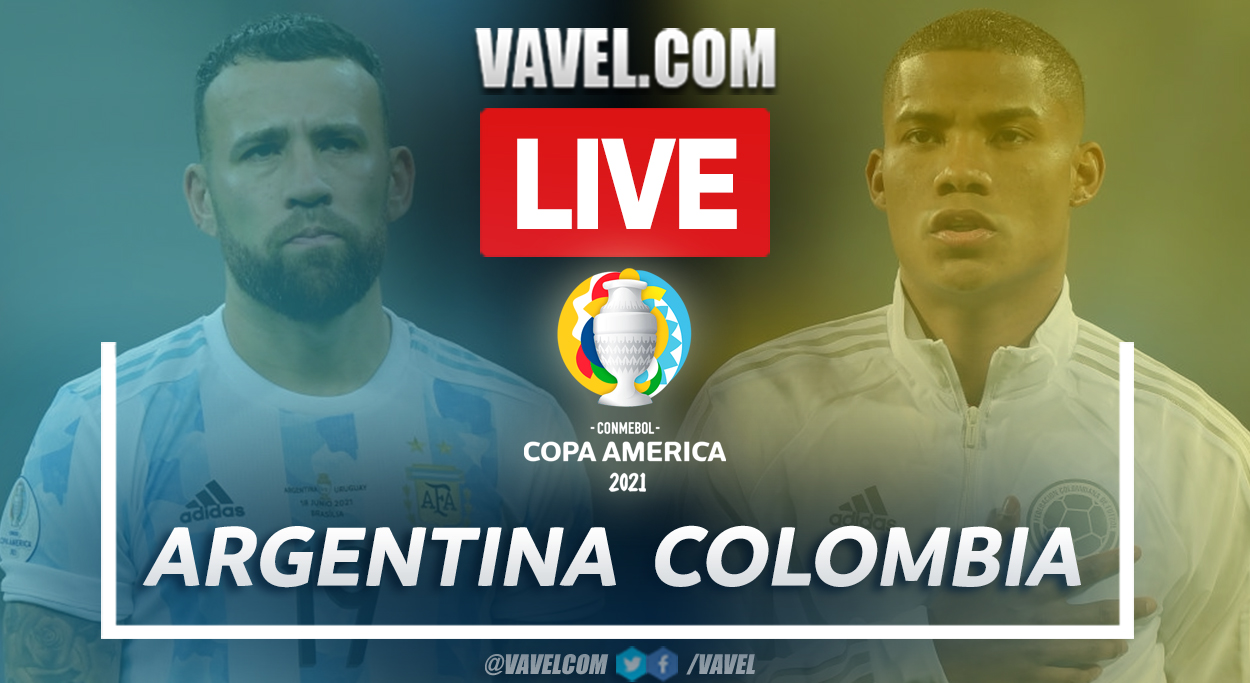 Thanks!
Highlights!
¡MARTÍNEZ SAVE! ¡ARGENTINA WINS!
GOOOAL by Argentina
GOOOAL by Colombia, 2-2
GOOAL by Argentina!
MARTÍNEZ SAVE AGAIN!
DE PAUL MISSED IT!
MARTÍNEZ SAVE!!
GOAL for Argentina
GOAL by Colombia
Colombia kicks off the series
90+4' END OF GAME!
90+1' Yellow card
90' Additional time
88' Yellow card
87' Another yellow card
86' Yellow card
85' Last five minutes
80' Ospina saves!
76' Yellow card
73' Colombia was saved
72' Yellow card
70' Argentina approahed
67' Substitution in Argentina
65' Colombia keeps trying
61' GOOOOOAL by Colombia!
60' Substitution in Colombia
56' Substitution in Argentina
55' Yellow card
53' Colombia tries
49' Game was stopped
Second half begins
Substitution in Argetina
Triple substitution in Colombia
45+5' End of first period
45+4' Yellow card
45' Additional time
45' DAVID OSPINA SAVE!!
40' Last minutes
37' BALL TO THE POST AGAIN!
36' BALL TO THE POST!
35' Last 10 minutes
30'Half an hour of match
28'Cuadrado tried
24' Colombia tries to find the opponent's goal
21' Yellow card
15' First quarter of an hour
10' Game stopped
8' Colombia approached!
7' GOOOAL by Argentina!
4' Argentina approached!
Match begins!
Teams take the field
Alternates - Colombia
Starting lineup - Colombia
Alternates - Argentina
Starting lineup - Argentina
Formations, coming soon
Argentina wants one more final
Colombia wants revenge against Argentina
Argentina vs Colombia history
Referee's team
We start!
Tune in here Argentina vs Colombia Live Score
How to watch Argentina vs Colombia Live TV and Stream
Statements - Reinaldo Rueda (Colombia Coach)
Statements - Lionel Scaloni (Argentina Coach)
Key player - Colombia
Key player - Argentina
Colombia's road to the semifinal
Argentina's road to the semifinal
Colombia wants a final after 20 years
Argentina wants the South American classic in the final
The match will be played at the Mane Garrincha Stadium
Welcome to VAVEL.com's coverage of the 2021 Copa America semifinal match: Argentina vs Colombia Live Updates!