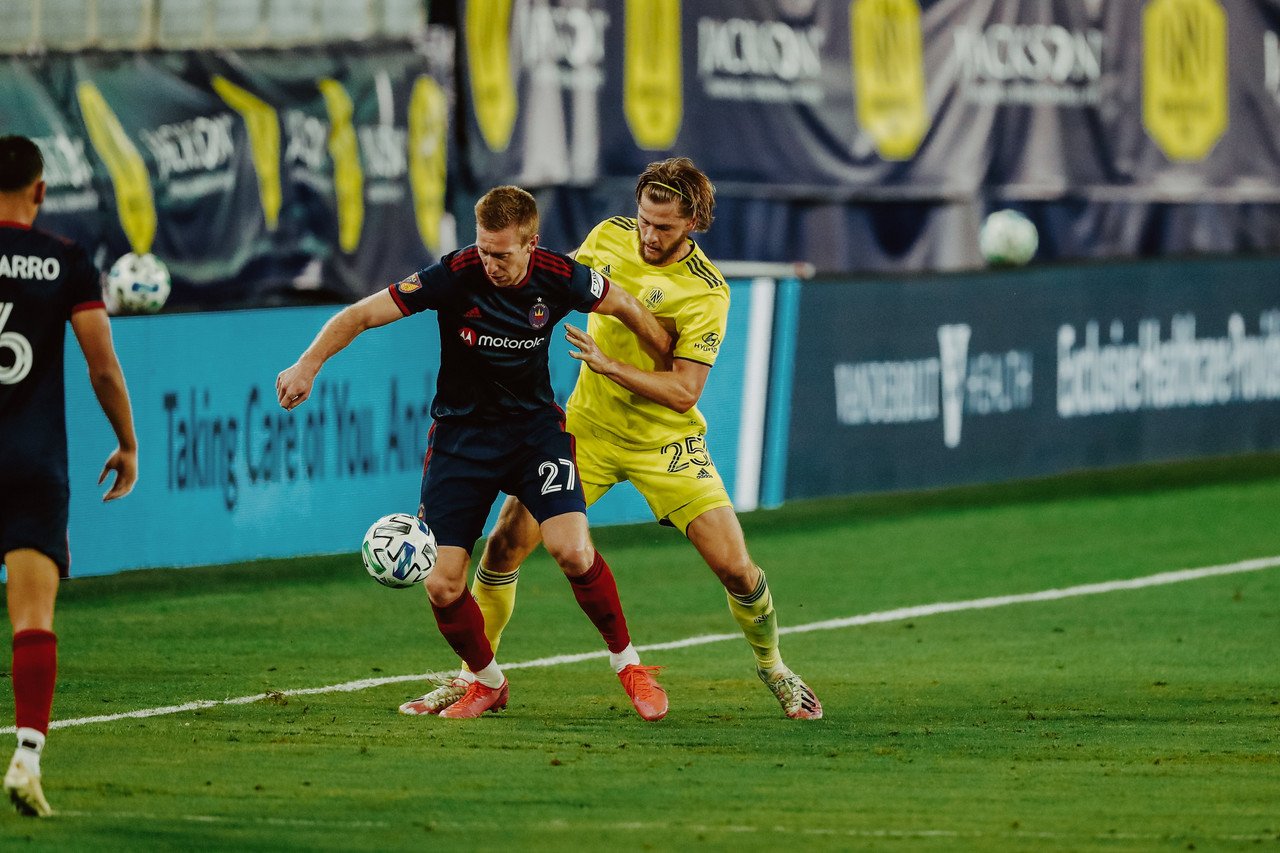 Saturday night in MLS serves up an Eastern Conference clash as Nashville SC hosts the Chicago Fire at Nissan Stadium.
Nashville have had an good yet unspectacular start to the season, but their most recent result was a disappointing one, as they only drew at home to a struggling Atlanta United side who finished the game with 10 men. It wasn't too surprising to see them tie once again, though, as that one was their seventh of the campaign, which is joint-highest alongside the aforementioned Atlanta. That stat goes to show that Nashville are a decent team, but they're far from being a great one.
Chicago, meanwhile, is flying high at the moment. They're unbeaten in their last three, with their two most recent games both being wins in which they scored three goals. A change in system has helped the Fire turn things around, but an easy run of fixtures has arguably done more for them. That's why this contest is a big one, as they'll be up against tougher opposition on the road, and everyone knows just how bad they are whenever they have to play away.
Both teams were off this past weekend, so the players out on the pitch should be well rested for this matchup.
Team news
The Gold Cup has made life a bit tougher for Nashville, as they are currently without Alistair Johnston, Aníbal Godoy, and Walker Zimmerman, who are all out with their respective countries. Dominique Badji is also unavailable for selection, as he's still dealing with a shin injury.
Chicago are missing a player of their own due to international duty, to be fair, as Francisco Calvo is with Costa Rica at the moment. On the injury front, Kenneth Kronholm and Carlos Terán are both out hurt, but there's a slim chance that Stanislav Ivanov could finally make his club debut after recovering from a knee problem that has ruled him out for the entirety of the year so far.
Predicted lineups
Nashville SC: Willis, Maher, Anibaba, Romney, Muyl, McCarty, Leal, Anunga, Lovitz, Sapong, Mukhtar
Chicago Fire: Shuttleworth, Kappelhof, Pineda, Bornstein, Sekulić, Herbers, Medrán, Frankowski, Navarro, Berić, Aliseda
Ones to watch
C.J. Sapong
The former Fire frontman will look to get onto the scoresheet against his old side, but doing so will be a bit of a tough test.
C.J. Sapong has had an interesting career so far. At times, he's a top-level goalscorer in MLS. He's scored at least nine goals in four separate seasons, and he's done that with three different teams as well.
However, things just seem to go wrong for him after a few years at a club. He was traded from Sporting Kansas City to the Philadelphia Union at the end of 2014, and he was then dealt from Philly to the Chicago Fire about four years later. His contract with them expired at the end of the last campaign, which let him sign for Nashville as a free agent.
Despite Sapong's inconsistency, he's still someone who can score on any given matchday. A striker that does a little bit of anything, he's able to either hold the ball up and help his team in build up play or simply hang around in the box and wait for chances to fall his way. He's not a giant at 6'1", but he knows how to use his frame and athletic ability to win aerial duels and head home crosses.
He'll be taking on a Chicago defense that has been better as of late. Going up against three centerbacks will be a challenge, but if the American is smart and clinical in the final third, then there's a good chance he'll be able to haunt his former teammates on the night.
Robert Berić
The forward on the other side of the pitch will be Robert Berić, who finally broke this lengthy goalscoring duct in the Fire's last game.
Berić's season up to that point had been horrific. He had only scored once from the opening 11 games, and he wasn't playing too well either. Missing chances and straying offside way too often, many fans were asking for him to be dropped to the bench, which was something that did happen in an earlier contest.
Head coach Raphaël Wicky has stuck by his Designated Player, and that decision paid off versus Orlando, as he scored what was ultimately the winner. It wasn't the most spectacular goal, as he just capitalized on woeful defending to sneak in behind before slotting home past the goalkeeper, but it was a clinical bit of play nonetheless.
He'll likely start once again as a result. However, the pressure will still very much be on Berić to keep producing. His signing last year was questioned, but he seemed to put those doubts to bed when he scored 12 goals for the club in his debut campaign. His struggles this season has led to those earlier concerns resurfacing, though, and there's a chance Chicago could look to replace him if things don't change soon.
The good news is that the Slovenian should have regained a bit of confidence after his aforementioned goal, and now everyone associated with the Fire will hope that he can hit top form once again.
Last time out
The last meeting between these two sides was quite the spooky one, as it took place on Halloween.
Nashville opened the scoring near the half hour mark. A long cross towards the back post made its way to Randall Leal, who then hit the ball back across goal. Daniel Ríos was the one who reacted first to the pass, as he beat his marker before heading home past the outstretched arms of Bobby Shuttleworth, who did get a hand on the attempt.
Chicago responded well to going down, equalizing before the end of the half. Mauricio Pineda was given too much time on the ball, which allowed him to dribble into space before picking out the excellent run of Boris Sekulić in behind the opposing defense. He then made no mistake with the finish, calmly slotting a shot into the back of the net.
Those would prove to be the only goals of the contest, though, as both teams ended up settling for a late-season point.
How to watch
The match will kick off at 7:30 p.m. CST, and it will air on my30 WUXP and nashvillesc.com for fans in Nashville and on WGN TV and chicagofirefc.com for fans in Chicago. Anyone else in the United States will be able to watch the action unfold on ESPN+.