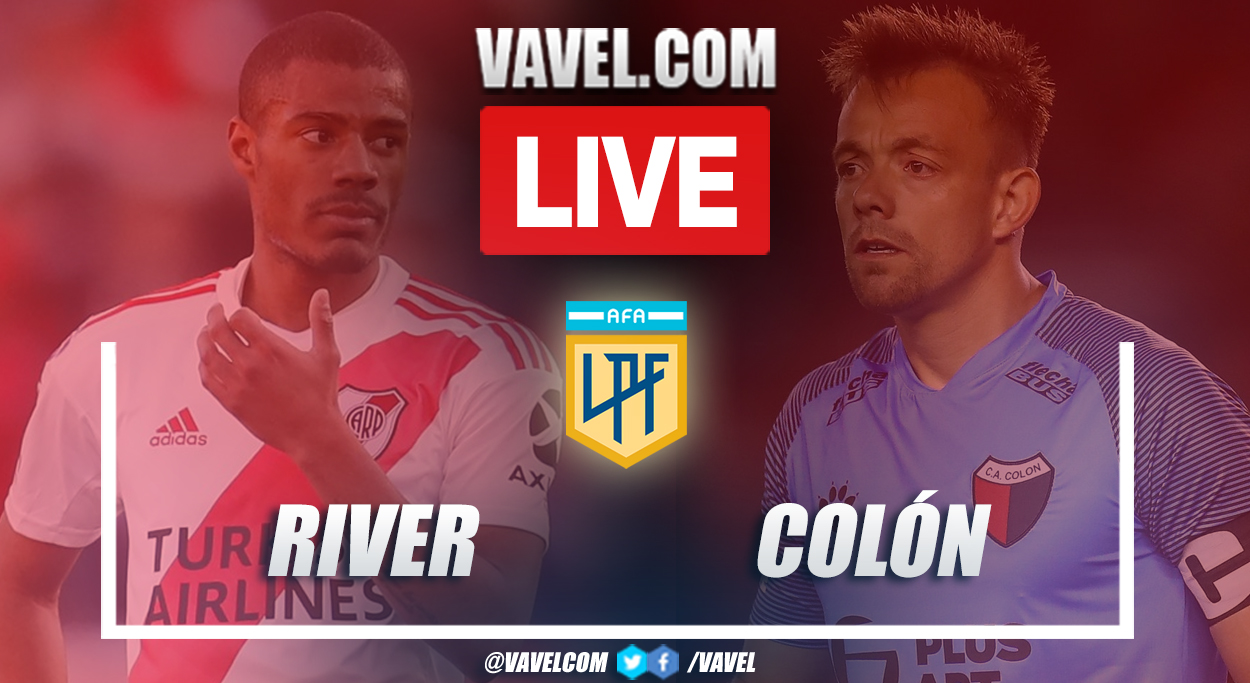 Thanks
94' Match ends
91' GOAL BY RIVER!
90' Addition time
87' Colón is saved
84' River attack
81' Last ten minutes
78' River long possession
75' Colón is saved
73' River's shot
70' The game is stopped
68' River control
65' River's shot
62' River's constant attacks
59' Colón bets on counterattack
56' Total control by River
54' Yellow card for River
52' River is saved
51' River attack
Second half begins
48' End of the first half
45' Addition time
44' Dangerous free kick for Colón
41' River's shot
39' River attack
36' Colón attack
33' COLÓN GOAL!
30' River's quick attacks
28' Yellow card for River
25' River control
22' Slow pace of the match
19' River control
17' Colón is saved
14' Expelled in Colón
13' Colón's shot
11' Control by Colón
8' The ball is being fought for in the midfield
6' River attack
3' COLÓN GOAL!
2' Colón attack
Match starts
Captain's draw
The teams take the field
Final details
Colón's starting eleven
River Plate starting eleven
Pre-competitive activities
Arrival of equipment
We continue our coverage
Tune in here River vs Colon Live Score
How to watch River vs Colon Live Stream on TV and Online?
What time is River vs Colon match for Liga Profesional?
Key player - Colon
Key player - River Plate
River vs Colon History
Colon wants to be the favorite
River starts the road in search of ending the league drought
The match will be played at Monumental
Welcome to VAVEL.com's coverage of the 2021 Liga Profesional match: River vs Colon Live Updates!