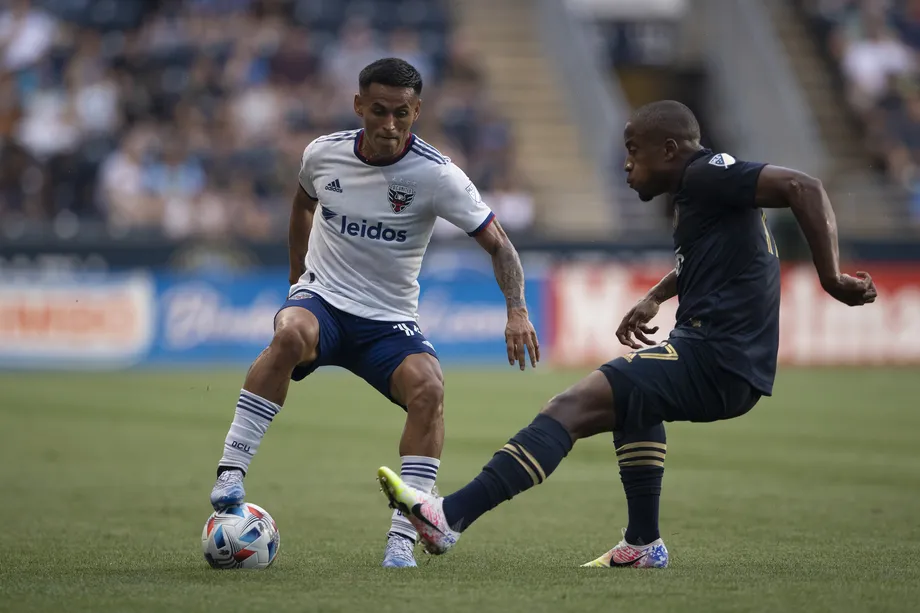 The Philadelphia Union picked up their first win in almost a month as they defeated D.C. United 2-1 at Subaru Park.
Sergio Santos gave the hosts an 11th minute before Yasil Asad leveled things from the penalty spot six minutes after halftime. Kacper Przybylko found the match-winner in the 84th minute as Philadelphia snapped a three-match winless run.
Story of the match
D.C. United controlled the early action as 25 seconds into the match, a cross by Nigel Robertha found Adrien Perez, who barely missed guiding it into an empty net. Robertha then had a go, the ball deflecting off of Philadelphia defender Jakob Glesnes, but going just wide.
The opening goal was created from a counterattack as Olivier Mbiazo and Bedoya worked their way out of pressure and the latter passed to Santos, who ran on to the ball and beat Black and Red goalkeeper Bill Hamid. He then saved from Santos in the 29th minute after a cross by Mbiazo.
Philadelphia goalkeeper Joe Bendik made a spectacular save eight minutes from halftime after Steve Birnbaum nodded down for Yamil Asad. The Argentine's shot from nine yards out was stopped by the Union netminder.
In the 51st minute, the Black and Red were level. Julian Gressel sent a short corner to Yordy Reyna and his shin was clipped by Santos. Referee Alex Chilowicz pointed to the spot and Asad did the rest, sending Bendik the wrong way to make it 1-1.
Chances were coming at both ends at this point. Asad intercepted a pass by Glesnes and fired a low strike that skipped just wide. At the other end, a Philadelphia cross glanced off of Tony Alfaro before bouncing wide.
In the 70th minute, the Union thought they were in front as Santos glanced Przybylko's shot past Hamid, but the goal was disallowed after he was judged to have been offsides.
Finally, in the 83rd minute, the hosts found the match-winner. Alfaro lost possession of the ball, Philadelphia went direct and Santos set up Przybylko, who finished from ten yards out to make it 2-1.
Three minutes later, Chilowicz stopped the game after lightning was spotted in the area. After 114 minutes, the match resumed and Gressel sent in a long ball that Bendik barely grabbed away from D.C. United substitute Griffin Yow.
Man of the Match: Daniel Gazdag
He played the key pass that led to Santos' opener and created the turnover that proved to lead to Przybylko's winner. While his offensive talent is unquestioned, it's on defense that he impressed the most with seven recoveries, five duels won and two blocks.