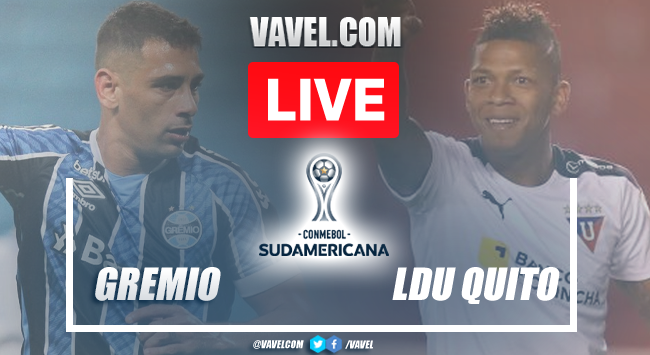 Here are some of the best moments of this match!
Thank You!!
LDU goes through to the quarterfinals!!!
Gremio are out of the Copa Sudamericana!!
Min 99: Gremio has the last chance!!
Min 97: Gremio shoots!!
min 94: Last chance of the game for Gremio
Min: 92 corner kick for Gremio
Min 90: The referee has decided to add 5 minutes of extra time!
Min 89: change for LDU
Min 87: Dangerous free kick for lDU
Tweet from LDU for the second goal scored
Min 83: Free Kick for LDU
Min 81: 5th change for Gremio
Min 80: foul from Gremio
min 78: another change for LDU
Min 72: Yellow card for LDU
Minute: 71 2 changes for Gremio
Min 70: First Change for LDU
Min 67: LDU at the moment is going through!
Min 64: first change for Gremio
Min 56: Goal for LDU!!
Min 54: And the referee says penalty!!!
Min 50: controversial foul for LDU
Min 48: Great ball from the defender
The second half has started
The second half is about to starts
Tweet from LDU after the goal!! they were buzzing
The first half has ended!!
Min 45: 2 minutes of added time
Min 44: Goal for LDU
Min 41: LDU still with the ball
Min 39: great shot by LDU
Min 36: LDU has a chance!!
Léo Pereira
min 31: shot from Gremio
Gremio's page after the goal, they are buzzing!!
Min 26: Gremio player on the ground
Min 23: Goal for Gremio!!
Min 19: first shot for Gremio
Min 17 LDU Has the ball possesion
Min 9
Min 5
Min 2
And the game is Live
The 4 referees for the match!
Gremio players are warming up!
XI for LDU Quito
XI For Gremio
Goalkeeper training from Gremio Before te match against LDU Quito
Gremio hasn´t won in in 4 matches of the Brasileirao Serie A
Do not take off from here to follow the Gremio vs LDU Quito live
Tune in here Gremio vs LDU Quito Live Score
Can Diego Souza rise up and score?
Felipe Scolari: Can he send Gremio to the quarter finals?
Watch out with this LDU Quito player: Adolfo Muñoz
Last line-up from LDU Quito
Last line-up from Gremio
When and where can you watch Gremio vs LDU Quito live and online.
Schedules of different countries to watch the duel
¡Gremio won again!
¡LDU Quito wins by a small margin!
¡First victory for Gremio!
¡Promising Duel!
¡Welcome!