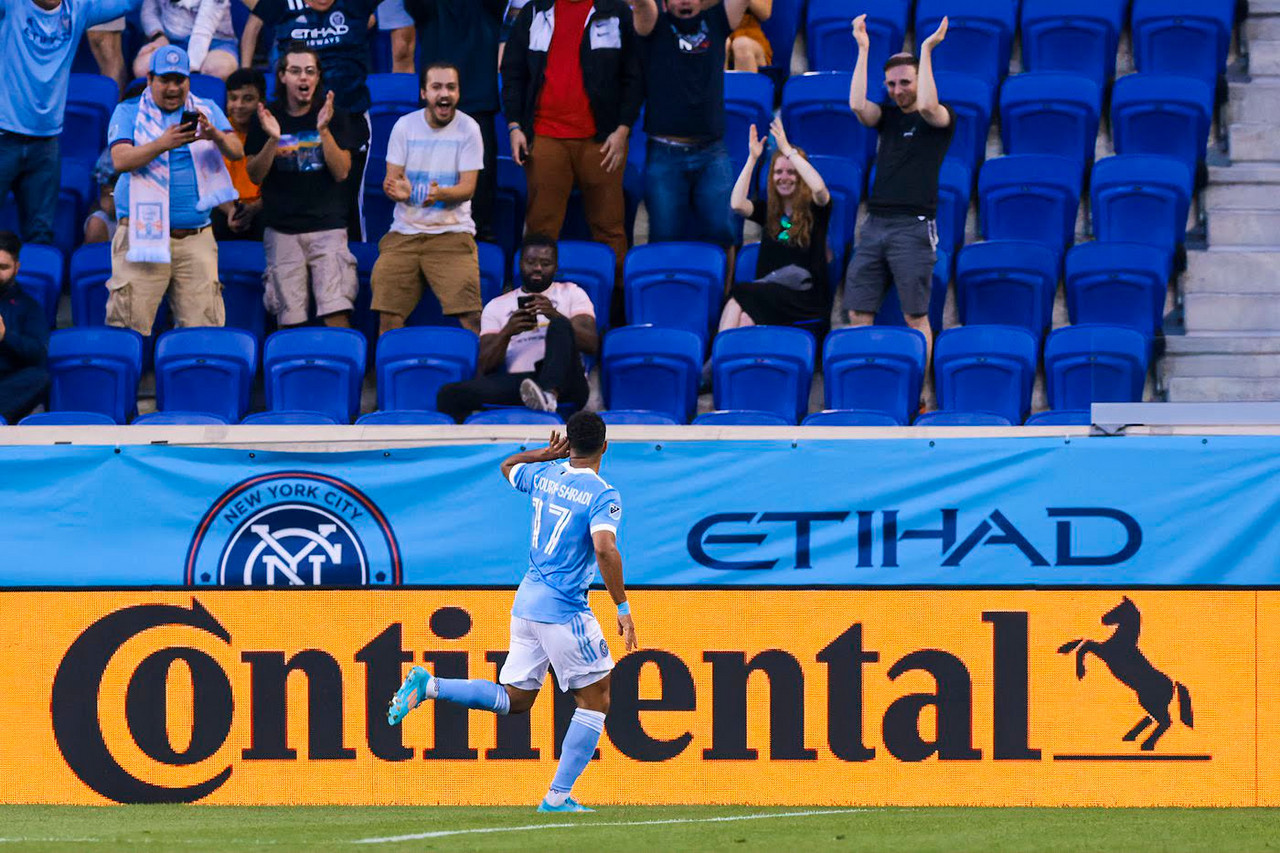 NYCFC snapped a two-match losing streak with a 1-0 victory over the Montreal Impact at Red Bull Arena.
Ismael Tajouri-Shradi scored the only goal of the match in the 29th minute as the Boys In Blue avenged a defeat from two weeks ago while stopping the Impact's seven-match unbeaten run.
Story of the match
Montreal had the first opportunity of the game when Joaquin Torres ran onto a Bjorn Johnsen flick, but his cross was comfortably saved by NYCFC goalkeeper Luis Barraza. Johnsen hit the crossbar in the ninth minute after a deflected clearance by Maxime Chanot landed in his path.
In the 16th minute, the Boys In Blue engineered their first chance as Valentin Castellanos got off a shot that was well-saved by Montreal goalkeeper James Pantemis. Shortly before the half-hour mark, the hosts made the breakthrough.
Barraza's long upfield kick sprung Tajouri-Shradi, who beat Impact defender Zorhan Bassong to the ball and he lobbed over a stranded Pantemis to make it 1-0.
The Impact thought they had equalized as Johnsen beat Barraza, but the linesman raised his flag for offsides.
Minutes later, Jesus Medina nearly doubled the lead as a pass out wide by Maxi Moralez found Gundumur Thorarinsson and his low cross found the foot of the Paraguyan, but he failed to hit the target. Tajouri-Shradi then found Moralez just inside the Montreal penalty box, but his effort was wide.
At the start of the second half, the Boys In Blue continued to push as Moralez sent a cushioned header at the back post to the feet of Medina, but his shot from six yards away was handled by Pantemis. Chanot had a chance in the 54th minute, but he couldn't adjust his feet in time to convert.
Some mice interplay between Castellanos and Medina led to another opportunity for Tajouri-Shradi, who hit the crossbar. Thorarinsson went wide from a corner in the 74th minute and in the final minute, substitute Malte Amundsen slotted in Medina, but his attempted cutback trickled into Pantemis' hands.
Man of the Match: Ismael Tajouri-Shradi
In a match of few chances, the Libyan took his and pounced on the confusion in the Montreal defense. Hitting the crossbar for what would have been his second goal is cruel fate for a performance that was lively throughout.