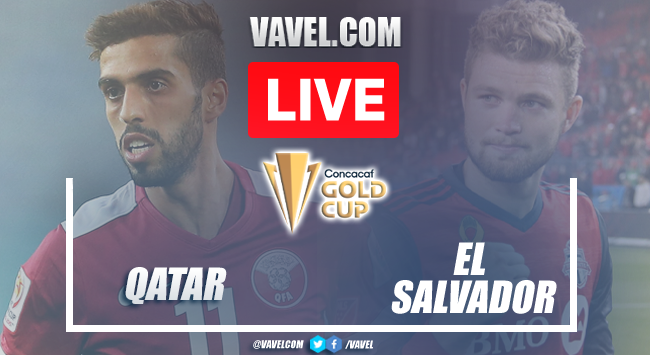 Highlights
Thanks
To the semifinals
End game
95'
92'
90'
86'
82'
75'
72'
Goal El Salvador 2-3
Goal El Salvador 3-1
68'
67'
66'
Goal Qatar 3-1
63'
59'
55'
54'
52'
52'
49'
46'
Half time
47'
45'
44'
38'
37'
30'
28'
25'
22'
18'
14'
Goal Qatar 2-0
8'
Goal Qatar 1-0
5'
2'
0'
They jump into the field
Minutes away
Already warming up
Substitutes El Salvador
Substitutes Qatar
The referee
XI El Salvador
XI Qatar
Demonstrating good soccer
Continuing to make history
We start
Tune in here Qatar vs El Salvador Live Score
What time is Qatar vs El Salvador match for Gold Cup?
Last games
Key player El Salvador
Key player Qatar
Last Team El Salvador
Last Team Qatar
Who does the winner go up against?
How did El Salvador get there?
How did Qatar fare?
Kick-off time
Welcome to VAVEL.com's LIVE coverage of the 2021 Gold Cup: Qatar vs El Salvador!