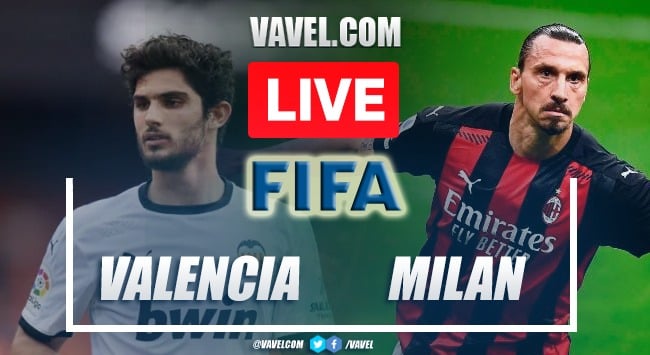 Thank you!!
Today's match penalties!!
Ant the penalties are begining!
Min 90: And the match ends!!
Min 85: double change for Valencia
Min 82: A fight in Mestalla!!
Min 81: one change for Valencia
Min 76: What a run by Theo!!
Min 74: what a ball for Giroud
Double change for Valencia!
Min 66: corner kick for Milan.
Min 63: triple change for Milan
Min 60: What a save by Mamardashvili!!
Min 59: yellow card for Valencia
2 changes for Milan
Min 52: what a run by Thierry Correira!!
Milan makes a triple change
And the ball is on it's way!! Milan moves it!
Half time!! 0-0
Aaaand the referee ads 2 minutes of added time!
Min 42: great ball from Tomori!!
Min 32: free kick for Milan
Min 27: corner kick for Valencia
Min 25: The match continues
Min 23: coling break!
Min 18: Cheryshev goes alone!!
Min 12: dangerous shot from Milan!!
Aaaaand the ball starts Rolling!
Starting XI for Milan
Starting XI for Valencia
Milan players arrive at Mestalla!!
Valencia have no injured players!!
Milan don't have any injuries so far!
Can Valencia have a better position in La Liga than last season?
Do not detach yourself from here to follow the Valencia CF vs AC Milan match LIVE
¡Valencia and Milan are facing off for the third time in this decade!
Player to watch from AC Milan: Fikayo Tomori
Player to watch from Valencia CF: Manu Vallejo
Last XI from AC Milan
Last XI from Valencia CF
When and where to watch the match between Valencia CF and AC Milan online and LIVE
Time of different countries to watch the match.
¡Milan are undefeated!
¡Valencia has had a great pre season run!
¡Promising duel!
Good afternoon to all VAVEL readers!