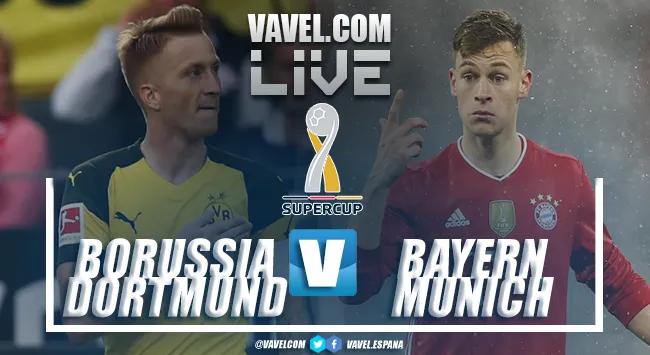 Goals and highlights!
Thanks to everyone!
CHAMPIOOOOOONS!!!
JULIAN NAGELSMANN!!
ROBERT LEWANDOWSKI!!!
BAYERN MUNICH, CHAMPIONS OF THE GERMAN SUPERCUP!
90'+2 HAAAAALAND
90' CLOOOOOOOSE
88' Double change
86' COOOORNER
85' KIMMICH
84'Double change at Dortmund
82' New yellow card
80' NEUEEEEER
78' New change
76'Double change
73' GOOOOOOOOOOAL
71' LEWANDOWSKI
70' COOOORNER
69'Free kick
64'Reus' goal
63' REYNA
61'Bellingham
60' HAAAAALAND
58' First change of Dortmund
57' COOOOORNER
56' SUUUUULE
56' Sule
54'Free kick
52'Goal annulled
49' GOOOOOOOOOAL
46' Kobel
46' Cooooman
Second half of the game!
The best, ROBERT LEWANDOWSKI!!
End of the first half
44' Reeeeeyna
40' GOOOOOOOOOOOAL
38' NEUEEEEEEER
36' Goal annulled
34' KOOOOOBEL
32' Yellow Card
29' Haaland
27' HAAAAAALAND
25' Yellow Card
24' CLOOOOOOSE
23' CROSSBAAAAAR
22'Free kick
21' Cooooorner
20' NEUEEEER
17' KOOOOOBEL
16' Dortmund
15' COOOOOMAN
14' MUUUULLER
12' Upamecano
8' COOOORNER
6' REYNA
5' GNAAAABRY
4' COOOOORNER
2'Free kick
1' CLOOOOOSE
Let's get started
Minute of silence!
TO THE FIELD!!!
Minutes away from the match!
The legendary Gerd Muller!!
Minute of silence!
Signal Iduna Park!!
Substitutes Bayern Múnich!!
Substitutes Borussia Dortmund!
This is how the reigning German Supercup champions will emerge!
How the DFB Pokal champion will be crowned!
¡Welcomeeee!
Tune in here Borussia Dortmund vs Bayern Munich for the German SuperCup!
The match will be played at the Signal Iduna Park!
With one goal in mind: THE TITLE!
Julian Nagelsmann, coach of Bayern Munich!
Marco Rose, coach of Borussia Dortmund
Probable lineups of Dortmund vs Bayern Munich!
Lewandowski, key player of Bayern Munich!
Haaland, key player of Borussia Dortmund!
Haaland vs Lewandowski!!
Latest games between Dortmund - Bayern Munich!
Bayern Munich, reigning German Supercup champions!
Here's how Dortmund arrives!
What time is Borussia Dortmund vs Bayern Munich match for German Cup
How to watch Borussia Dortmund - Bayern Munich Live Stream on TV and Online
Welcome!