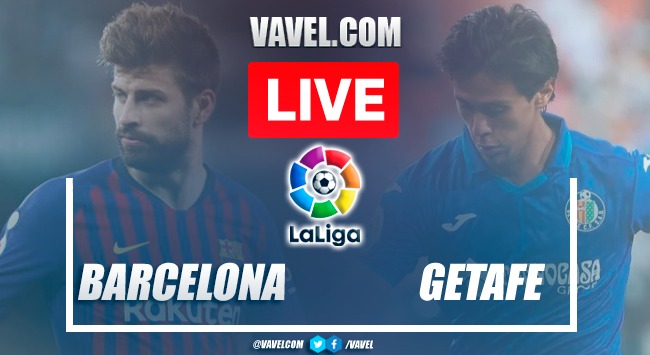 Thank you
Today's highlights
¡¡¡¡And the match ends!!!!
And the referee adds 5 minutes
Yellow card for a player of barca
Changes for both teams
Barcelona are under preassure
Change for Getafe
Debutant for Barcelona in LaLiga
Change for Barcelona
A Barcelona player gets a yellow card
Changes for Getafe
Min 50: ¡¡shot from Getafe!!
Getafe make the first change
¡¡And the esconde half starts!!
¡¡And the first half ends!!
And the referee decides to add 4 minutes
¡¡What a match!!
Min 30: ¡¡Goooooal from Barcelona!!
Two players recieve a yellow card
Min 18: ¡¡Gooooooal for Getafe!!!
¡Getafe deserve more points!
¡Barcelona have great players out!
Min 9: ¡¡Close shot from Aleña!!
Min 1: ¡¡Gooooooooal for Barcelona!!
And the match starts!!
Starting XI for Getafe
Starting XI for Barcelona
Squad list for Getafe
The players Koeman have on his squad list
Player to watch form Getafe: Carles Aleña
Player to follow from Barcelona: Memphis Depay
Tune in here Barcelona vs Getafe live score
Last XI from Getafe
Last XI from Barcelona
Times to watch the match
Getafe come from a Bad start!
Barcelona come from a victory and a draw
Great Duel!
Welcome to all VAVEL readers!