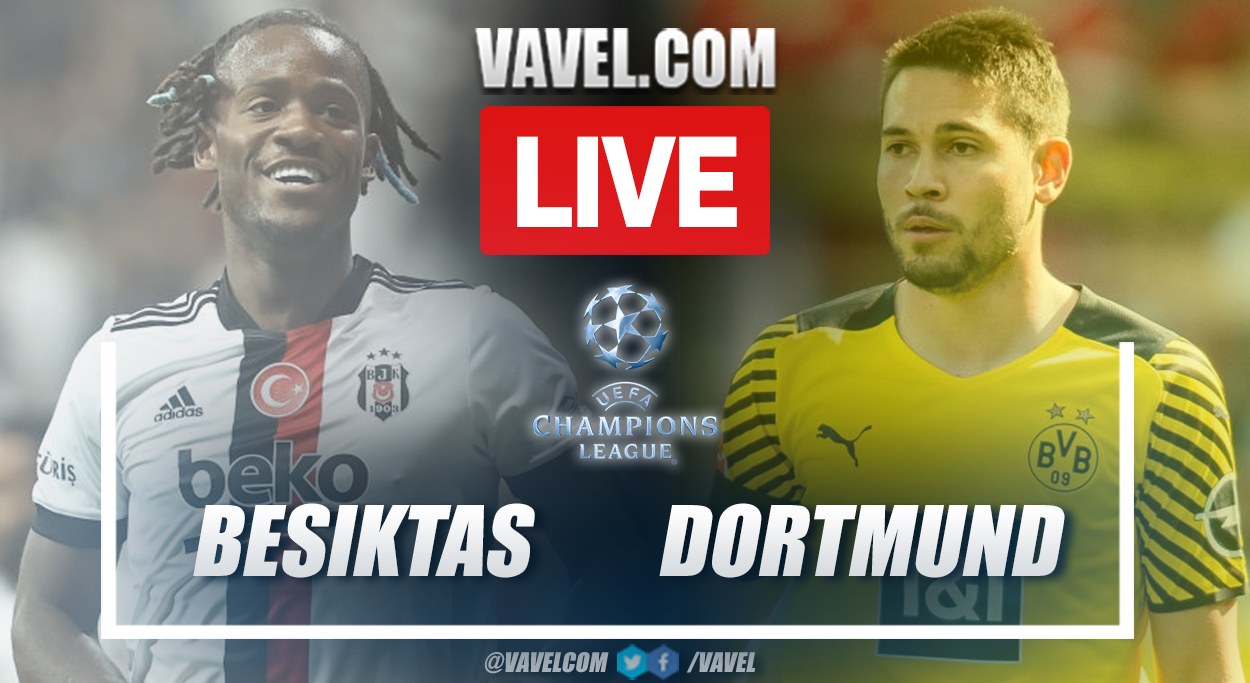 Thanks
90+7' End of match!
90+4' GOOOOAL for Besiktas
90+2' Dortmund missed it!
90' Additional time
90' Destanoglu saves!
89' Substitution in Besiktas
88' Dortmund approached
85' Substitution in Dortmund
79' Yellow card
78' Substitution in Besiktas
76' Yellow card
74' Besiktas tried
71' Haaland had it!
70' Triple substitution for Dortmund
67' Besiktas had it!
67' Dortmund had it!
60' Besiktas approached
59' Dortmund approached
54' Yellow card
53' Dortmund approached
53' Besiktas approached
52' Dortmund come closer
50' The start of the second half has been quiet.
Second half begins
45+3' End of first half
45+3' GOOOOAL for Dortmund
45' Destanoglu sends it to corner kick
45' Additional time
45' Yellow card
42' Yellow card
38' Dortmund pushed Besiktas completely out of their own half
33' Besiktas came closer
27' Dortmund had it!
26' Haaland missed it!
25' Besiktas looks for an equalizer
20' GOOOAL for Borussia Dortmund
15' First quarter of hour
10' Still goalless
6' ¡GREAT SAVE BY KOBEL!
5' First minutes
Match starts!
Teams on the field
Referee's Team
Substitutes - Dortmund
Starting XI - Dortmund
Substitutes - Besiktas
Starting XI - Besiktas
🎙 Marco Rose, Borussia Dortmund coach
🎙 Josef de Souza, Besiktas player
Vodafone Park is ready
We start!
Tune in here Besiktas vs Dortmund Live Score!
How to watch Besiktas vs Dortmund live on TV and online?
What time is Besiktas vs Dortmund match?
Key player - Dortmund
Key player - Besiktas
History Besiktas vs Dortmund
Borussia Dortmund arrives as group favorites
Besiktas aiming for a win on their return to the Champions League
The match will be played at the Vodafone Park
Welcome to VAVEL.com's coverage of UEFA Champions League match: Besiktas vs Borussia Dortmund Live Updates!