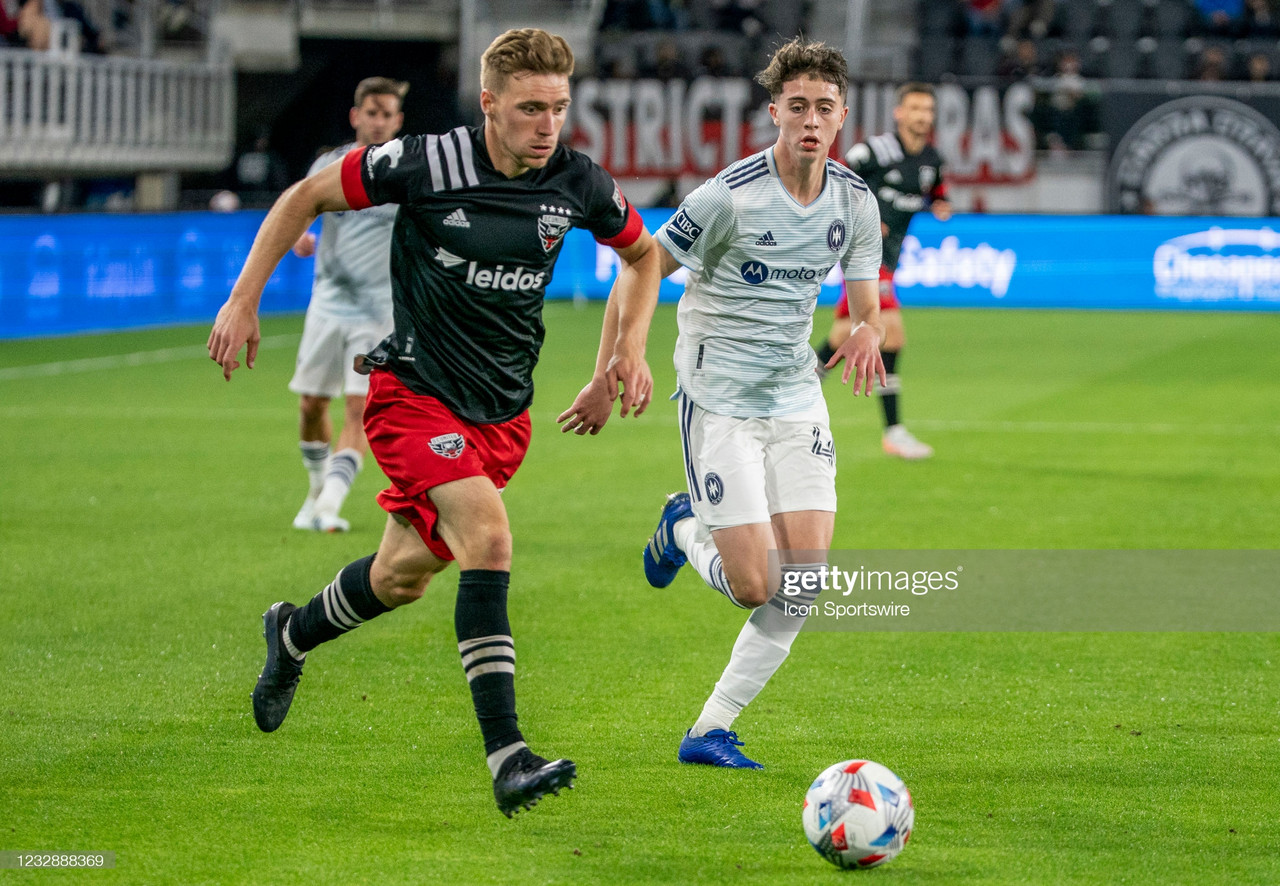 A potentially pivotal matchup in terms of the Eastern Conference playoff race takes place on Wednesday night as D.C. United hosts the Chicago Fire at Audi Field.
D.C. did well to pick up a result in their last game, as they drew the New York Red Bulls 1-1 on the road. They made a nightmarish start to the contest after conceding within the first five minutes, but a converted penalty kick from Ola Kamara right before the break was enough to secure a point at the end of the night. It may not have been pretty, but it was enough to keep United in the thick of the postseason picture.
Things were not as good for Chicago. They were beaten by Sporting Kansas City 2-0 this past weekend, and they effectively lost the match before it even began, giving up two goals in the opening six minutes. The Fire failed to show up in yet another away game, and they're now in desperate need of points as they head into the final stages of the campaign.
Team news
D.C. are dealing with a number of key injuries, as Chris Odoi-Atsem, Brendan Hines-Ike, Adrien Perez, and Bill Hamid have all been ruled out for this contest, while Nigel Robertha is a doubt as well.
It's a bit more unclear for Chicago, as the trio of Francisco Calvo, Kenneth Kronholm, and Brian Gutiérrez are currently seen as questionable.
Predicted lineups
D.C. United: Kempin, Gressel, Pines, Birnbaum, Alfaro, Paredes, Arriola, Canouse, Felipe, Reyna, Kamara
Chicago Fire: Shuttleworth, Sekulić, Terán, Pineda, Bornstein, M. Navarro, F. Navarro, Medrán, Stojanović, Offor, Aliseda
Ones to watch
Ola Kamara
This might be a bit of a biased selection since I am a fan of Ola Kamara, but it is also a reasonable one.
That is because the striker is currently in excellent form. He's scored in each of his last two games, and both goals were crucial since they came in important contests. They may have come from the penalty spot, but it's good to see nonetheless.
What is a bigger deal is how solid he's been for the entirety of this season. Despite starting the campaign with an injury, Kamara has managed to score 13 goals in 17 appearances. He's kept D.C. in the playoff picture with his play, and he'll now look to finish the job going into the end of the year.
The Norwegian has already gotten onto the scoresheet against Chicago this season, although that also was a penalty kick. He's no pen merchant, of course, and he's actually capable of scoring some absolute beauties, proven by his curler versus the New York Red Bulls in 2019.
Whether or not the Fire will be able to stop him remains to be seen, but considering the way he's been playing, that doesn't seem likely.
Bobby Shuttleworth
Chicago's last hope of stopping Kamara will be Bobby Shuttleworth.
The goalkeeper has been one of his team's best players this season, but he arguably cost them this past weekend. He effectively gave the opposition a goal in the 4th minute, as he let a very weak shot roll right through his legs and into the back of the net. Minutes later he conceded again, and at that point, the game was pretty much over already.
It was an especially strange mistake considering how good Shuttleworth has been this year. He's saved the Fire on a number of occasions, being the main reason why they've picked up any sort of result in certain games. He had only made one earlier error this year as well, so to see him commit such a blunder was quite odd.
As a result, he'll have a bit of pressure on him in this contest. Can Chicago's number 1 bounce back and stand on his head, or will he mess things up once again for his side?
Last time out
This will be the third meeting between these two sides this season, with the last one being quite an eventful one.
Taking place at Soldier Field, it seemed like Chicago was set to secure a home win and all three points. A header from Gastón Giménez put them in front, and then an own-goal from Andy Najar at the hour mark doubled their advantage.
However, they would bottle it, as Kevin Paredes pulled one back for D.C. in the 82nd minute before Ola Kamara converted a penalty five minutes later to tie things up. It was a remarkable turnaround considering how quickly it all happened, and both teams actually had some time left to try and find a winner.
Neither was able to, though, so the points were ultimately shared.
How to watch
The match kicks off at 6:30 p.m. CST, and it will air live on NBC Sports Washington and dcunited.com for fans in the D.C. area and on WGN and chicagofirefc.com for fans in Chicago. Anyone else in the United States will be able to watch the action unfold on ESPN+ and TeleXitos.