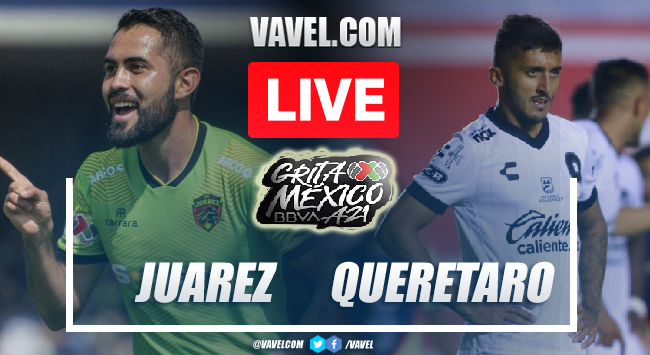 Highlights
Thanks
Nothing for nobody
End game
93'
90'
88'
86'
84'
82'
79'
78'
75'
74'
73'
68'
62'
51'
55'
52'
47'
46'
Half time
47'
45'
No goal
43'
42'
40'
38'
38'
36'
34'
28'
24'
23'
21'
18'
10'
6'
2'
0'
Minutes away
Finish warming up
Queretaro substitutes
FC Juarez substitutes
XI Queretaro
XI Juárez
Spectacular
The scorers
What happens if they win?
Sanitized
Start
Tune in here Juarez vs Queretaro Live Score in Liga MX
What time is Juarez vs Queretaro match for Liga MX?
Last games
Key player Queretaro
Key player FC Juarez
Last team Queretaro
Last team FC Juarez
Querétaro: singing away from the Corregidora
Juárez: take advantage of the pending game
Kick-off time
Welcome to VAVEL.com's LIVE coverage of the 2021 Liga MX: Juarez vs Queretaro!