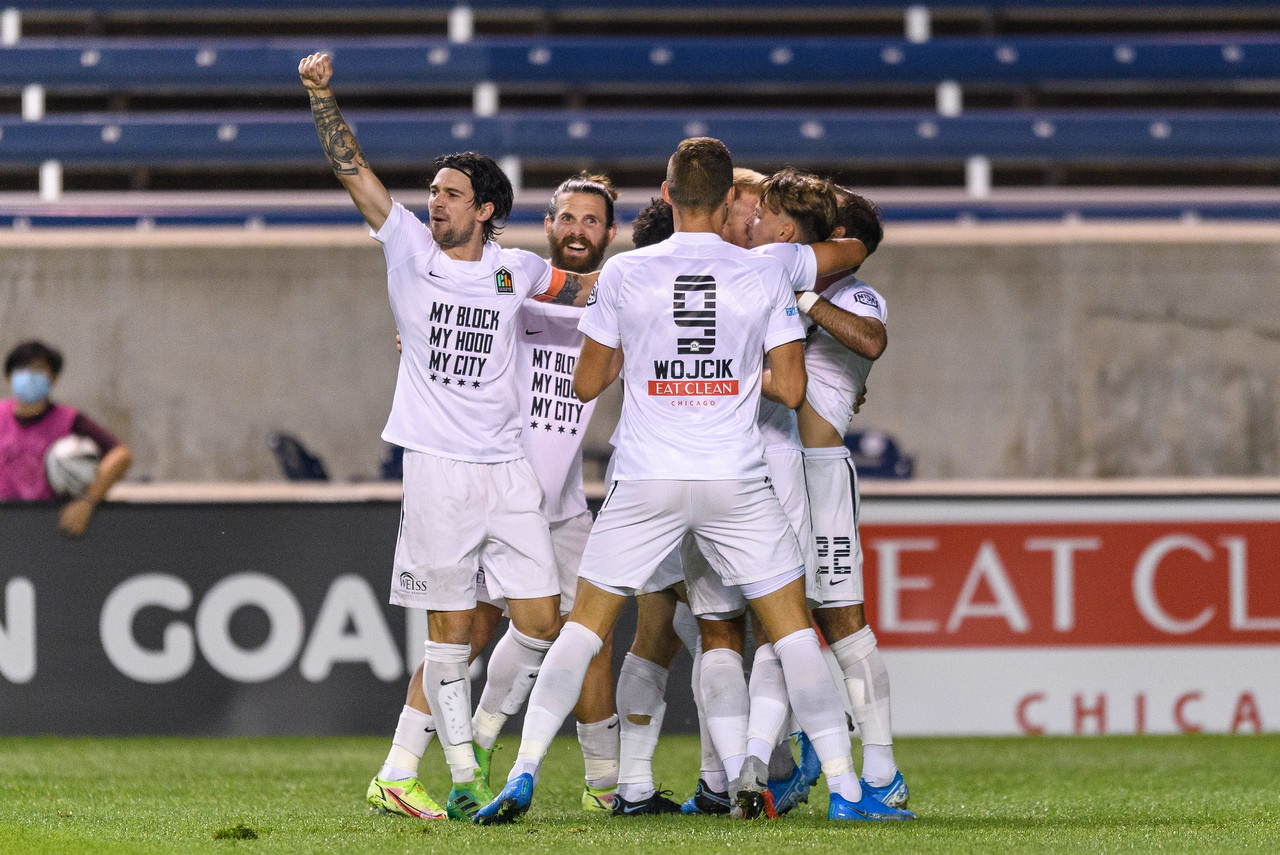 Chicago House Athletic Club picked up their first-ever home win on Saturday night as they defeated 1904 FC 1-0 at SeatGeek Stadium.
The hosts grabbed the only goal of the game within two minutes courtesy of a tap-in from Ian Cerro, and that proved to be all they needed at the end of the day. They should have scored at least a few more before everything was said and done, but they were still able to secure a historic victory despite all of their missed chances.
Story of the match
Unbelievably enough, Chicago opened the scoring after just a minute. A lovely pass from Louis Bennett played Derek Huffman through on the wing, and he then squared the ball to an unmarked Ian Cerro. The winger then did the rest, capping off the move with a smart finish from close range.
It was nearly 2-0 before the 10-minute mark. More lovely work from Huffman led to Matteo Kidd getting the ball in a dangerous position, but his shot flew well over the crossbar.
1904 took some time to get going, but they did carve out a decent opportunity for themselves early on. An unexpected shot from Jerry Desdundes was saved by the goalkeeper, and then Ozzie Ramos hit an audacious bicycle kick attempt into the wrong side of the side netting.
The rest of the first half went by with little fanfare. Both sides had a bit of the ball, but neither really did much with it.
Chicago came inches away from doubling their advantage before the hour mark. A loose ball fell kindly to Kidd on the edge of the area, and he decided to go for goal, hitting a first-time curling shot. However, it didn't curl enough, and the ball hit the post as a result.
They continued to pile on the pressure, creating another chance later on. Huffman connected with Cerro once again, but this time, his low shot rolled just wide of the frame. After that run of play, 1904 then went down a man as Sam Strong was sent off after being shown a second yellow card.
The House thought they had finally grabbed that crucial second goal when substitute Musa Morris rounded the goalkeeper and got a shot off that was on target. However, he would be denied by a San Diego defender, who made it back in time to stop the ball before it crossed the line.
Things didn't even stop there. Nazeem Bartman found space on the counter, and he did well to cut inside before unleashing a strike towards the bottom corner. He missed it by just a bit, though, which meant that the team's lead was still only one.
It became hard to keep track of just how many chances Chicago wasted on the night, and they even failed to convert from the penalty spot when Morris was denied by Alfredo Cortez, but fortunately for them that didn't matter as they held onto the win and all three points anyway.
Takeaways
Chicago's fluidity as a team is quite impressive. It almost seems like anyone can play anywhere at any given time, whether they are on the ball or off of it. The players make a lot of runs, and whenever they do, there always seems to be someone covering for them in their position. This allows them to be flexible and unpredictable at the back and going forward.
If the House were any better at crossing then this game wouldn't have even been close. They did well to get the ball out wide time and time again, but they just kept letting themselves down with the final delivery. It's certainly something they should work on.
1904 are down bad. They're now comfortably in last place in the NISA standings, and they've just lost two games in a row to a team that was at the bottom with them. This contest wasn't even that close, and the final scoreline could've looked a lot uglier if things went differently. Something has to change, and it has to change fast.
Man of the match - Matteo Kidd
Matteo Kidd certainly looked like someone who ate his Wheaties before this contest.
A presence throughout his time on the pitch, the winger just kept getting on the ball. He knew what to do with it when he got it as well, using his speed and technical ability to create chances for himself and his teammates. He seemed like he was playing at a higher intensity than everyone else, getting to plenty of loose balls while flying past people on a number of occasions.
Kidd arguably deserved a goal or an assist on the night, but at least he was able to play a part in his side securing all three points.