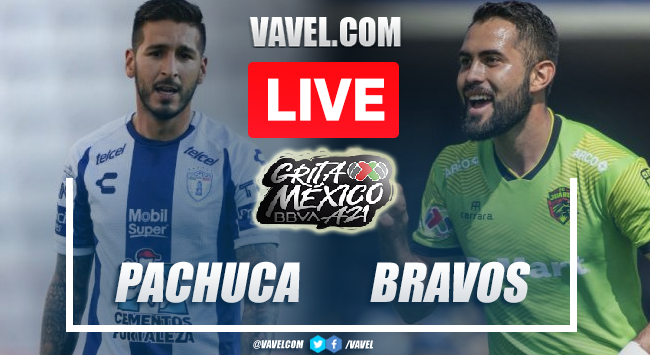 Highlights
Thank you friends of VAVEL
Final Score
90'+7'
90'+4'
90'+3'
90'+2'
90'
90'
89'
86'
86'
86'
81'
80'
78'
78'
74'
74' GOAL
73'
73'
72'
71'
70'
69'
68'
68'
65'
64'
64'
63'
60'
59'
58'
57'
57'
55'
51'
50'
47'
46'
45'
45'
Second half begins
The goal that has FC Juarez in front on the scoreboard at half time
Half Time
45'+5'
45'+4'
45'+3'
45'+1'
45'
44'
43'
41'
38'
36'
33' GOAL
33'
33'
32'
30'
28'
25'
23'
22'
21'
20'
19'
17'
13'
11'
11'
8'
7'
5'
5'
2'
Kick off
All set
Lineup FC Juarez
Lineup Pachuca
This is how FC Juarez arrives
This is how Pachuca arrives
Road to Playoffs
Matchday 15 closes
Get Started
Tune in here Pachuca - FC Juarez Live Score
How to watch Pachuca - FC Juarez Live Stream on TV and Online?
Key player FC Juarez
Key player Pachuca
Last lineup FC Juarez
Last lineup Pachuca
Who will be the referee and his assistants?
FC Juárez: To get out of the bottom of the table
Pachuca: Taking advantage of home
The match will be played at the Stadium Miguel Hidalgo
Matchday 15
Welcome to VAVEL.com's LIVE coverage of the 2021 Liga MX Match: Pachuca- FC Juarez Live Updates!