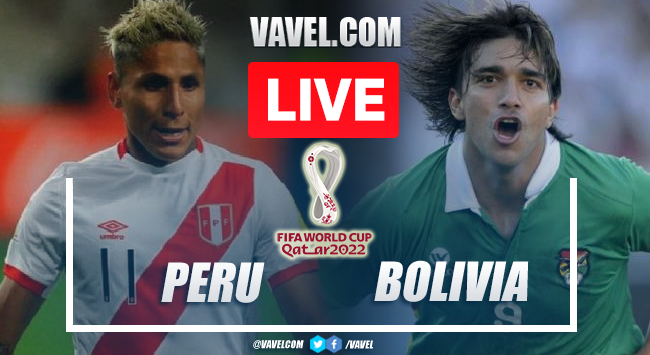 Summary
Thank you for following the VAVEL.COM webcast.
THE MATCH IS OVER!
80´
72´
69´
62´
61´
49´
START OF THE SECOND HALF!
END OF THE FIRST HALF!
That's how the goal fell!
32´
31´
26´
17´
THAT'S HOW THE GOAL FELL!
10´
2´
THE GAME KICKS OFF
IN MOMENTS WE BEGIN!
Qatar 2022 Qualifying table
PERU VS. BOLIVIA: WHO WILL BE THE REFEREE OF THE MATCH?
LAST-MINUTE WITHDRAWAL
HOW BOLIVIA IS COMING INTO THE MATCH AGAINST PERU
PERU'S CHANCES AGAINST BOLIVIA
BOLIVIA'S CHALLENGE AGAINST PERU
The issue of tickets
History of previous meetings (Qualifiers played in Peru)
Peruvian Dominance
PERU'S STARTING ELEVEN IS READY!
THEY ARE ALREADY IN THE STADIUM!
THE WAIT IS OVER!
Tune in here Peru vs Bolivia Live Score
What time is Peru vs Bolivia match for Qualifying round for Qatar 2022?
Watch out for this player from Bolivia:
Watch out for this player from Peru:
Bolivia's final lineup:
Peru's last line-up:
Background:
Refereeing team:
In search of climbing positions
They want to get out of the bottom of the table.
The road to the World Cup continues
Kick-off time
Welcome to VAVEL.com's LIVE coverage of the Qualifying round for Qatar 2022: Peru vs Bolivia!