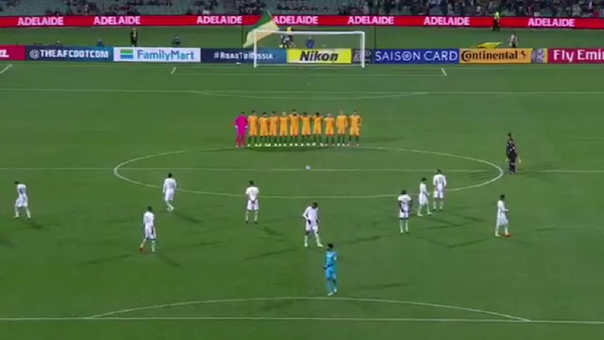 Thank you all!
End of the match
90' Yellow card for Nabbout and three minutes of added time
87' The last two changes for the Australian team
84' Al Shehri misses
81' Ryan saves Australia again
78' Double change for Australia
75' Saudi Arabia gets a very close chance
73' Saudi Arabia's center-forward goes off
68' First change of the match
66' Corner kick for the home team
62' Yellow card for Albulayi
60' Mohamed Al Rubale avoids the first one
57' First yellow card
Clear chance for Australia
Second part starts
45' End of first half
43' Awer Mabil tries again
35' Now it's Mabil's turn to try it
30' Hrustic almost scores
Great atmosphere in Sydney
23' Foul in favor of Australia
20' Behich's center
14' First shot by the visitors
11' Center by Awer Mabil
8' Foul in favor of Saudi Arabia
2' First arrival of the home team
The game started
5 minutes
Australia players warming up
Fight for first place
The French coach will start today with:
Arnold's starting eleven
Australia players arrive at Western Sydney Stadium
1 hour
Where and how to watch Austria vs Saudi Arabia?
What time is the Australia vs Saudi Arabia match?
Australia's call-up list for match Saudi Arabi and China
Group B
How does Saudi Arabia arrive?
How does Australia arrive?
Background
Headquarters
Preview of the match
Welcome to VAVEL.COM's LIVE coverage of Australia vs Saudi Arabia in the Qatar 2022 qualifiers.