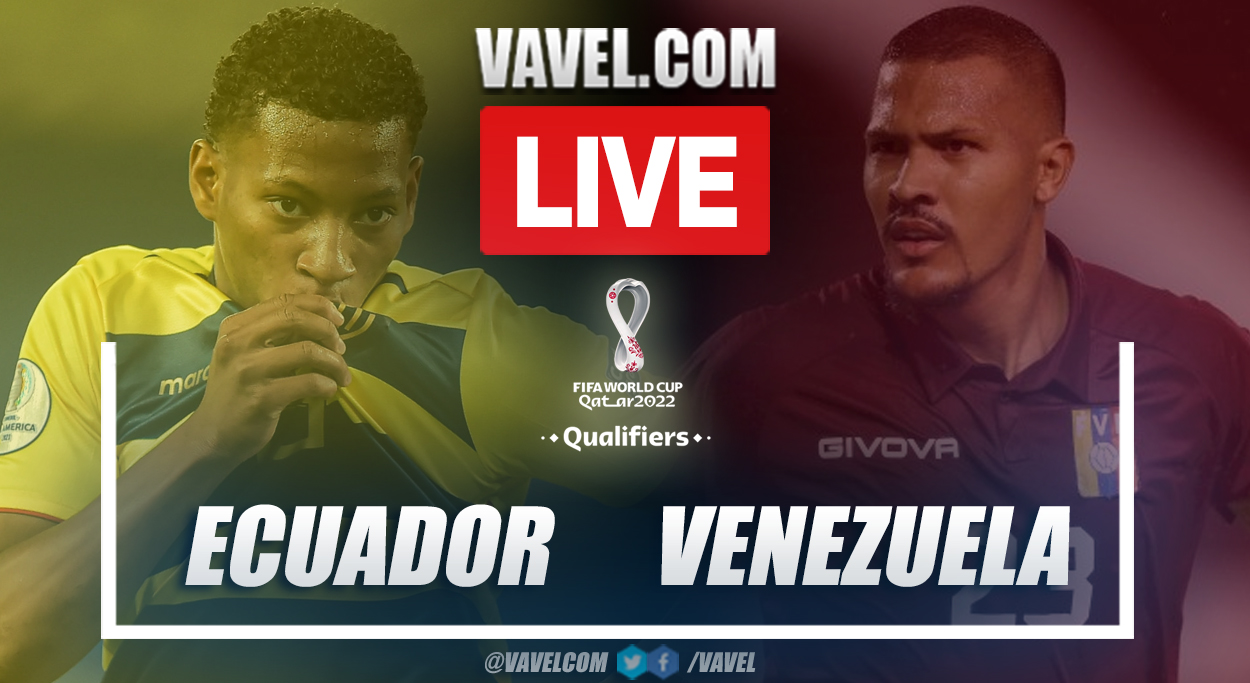 Thanks!
90+4' END OF MATCH!
90+3' Ecuador came close
90' Additional time
88' Substitution in Venezuela
86' Double substitution in Ecuador
84' VENEZUELA HAD IT!
81' Substitution in Venezuela
79' Ecuador came close
76' Substituton in Ecuador
70' 20 minutes left to go
65' Double substitution in Venezuela
64' Double substitution in Ecuador
60' First quarter of the second half
54' Machís almost missed!
51' ROMO'S GREAT SAVE!
Second half begins
45+5' End of first half
45+2' Yellow card
45' Additional time
45' The goal is validated
41' GOOOOAL for Ecuador
35' Final stretch of the first half
30' Half hour of match
29' Venezuela missed it!
28' Ecuador keeps pressing
25' Yellow card
22' Yellow card
21' Reasco tries
20' Ecuador continues to have the ball
15' Yellow card
15' Ecuador came closer
10' Ecuador continues to insist
5' First minutes
Match starts!
Referee Team
Teams on the field
Substitutes - Venezuela
Starting XI - Venezuela
Substitutes - Ecuador
Starting XI - Ecuador
Teams warm-up
Statements - Leonardo Gonzalez (Venezuela's coach)
Statements - Gustavo Alfaro (Ecuador coach)
We start
Tune in here Ecuador vs Venezuela Live Score!
How to watch Ecuador vs Venezuela Live Stream on TV and Online?
What time is Ecuador vs Venezuela match for Qatar 2022 World Cup Qualifiers?
Key player - Venezuela
Key player - Ecuador
Squad List - Venezuela
Squad List - Ecuador
History - Ecuador vs Venezuela
Venezuela
Ecuador
The match will be played at the Rodrigo Paz Delgado Stadium
Welcome to VAVEL.com's coverage of the Qatar 2022 Qualifiers match: Ecuador vs Venezuela Live Updates!