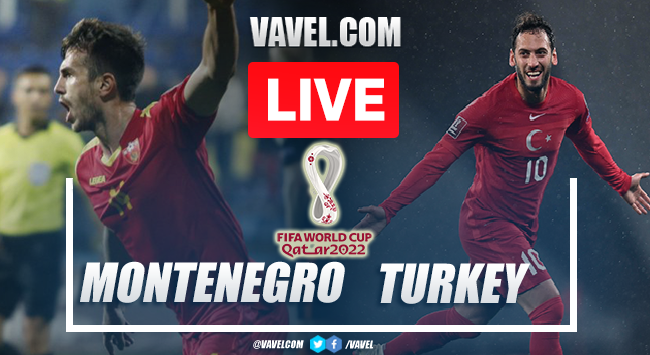 Thank you!
Goals from the match!
And Turkey is only one step closer from the World Cup!
Change for Turkey
A player from Montenegro recieves a yellow card
Min 82: What a save from Sarkic!!!
Changes for Turkey
Change for Montenegro
Changes for Montenegro and for Turkey
Min 64: Off the line Soyuncu!!!
Yellow card for Montenegro
Min 59: Gooooooal from Turkey!!!!
Double change for Montenegro
Change for Turkey
And the second half begins!!
And the first half ends!!
Min 40: What a save from Cakir!!
Min 23: And Turkey scores!!!
Min 11: What a Shoot from Calhanoglu!!
Min 8: Almost the second for Montenegro!
Min 5: Almost an own goal from Montenegro!!
Min 3: Goooooooal from Montenegrooo!!
And the match begins!
Turkey and Montenegro will play for the fourth time!
A player will play for his 3rd time!
Hakan Calhanoglu starts!
Turkey had a very good run!
Montenegro were many points away from being able to Qualify
Starting XI from Turkey
Starting XI from Montenegro
Tweet from the Turkish team!
Tweet from the World Cup Qualifiers account
Turkey only have one player unavailable.
Montenegro have many important players not available!
Tune in here Montenegro vs Turkey
Player to watch form Turkey: Barak Yilmaz
Player to watch from Montenegro: Stevan Jovetic
When and where to watch the match?
Last XI from Turkey
Last line-up from Montenegro
Times to watch the match
Turkey come from a massive win!
Montenegro come from a big draw!
Promising duel!
Welcome to all VAVEL readers