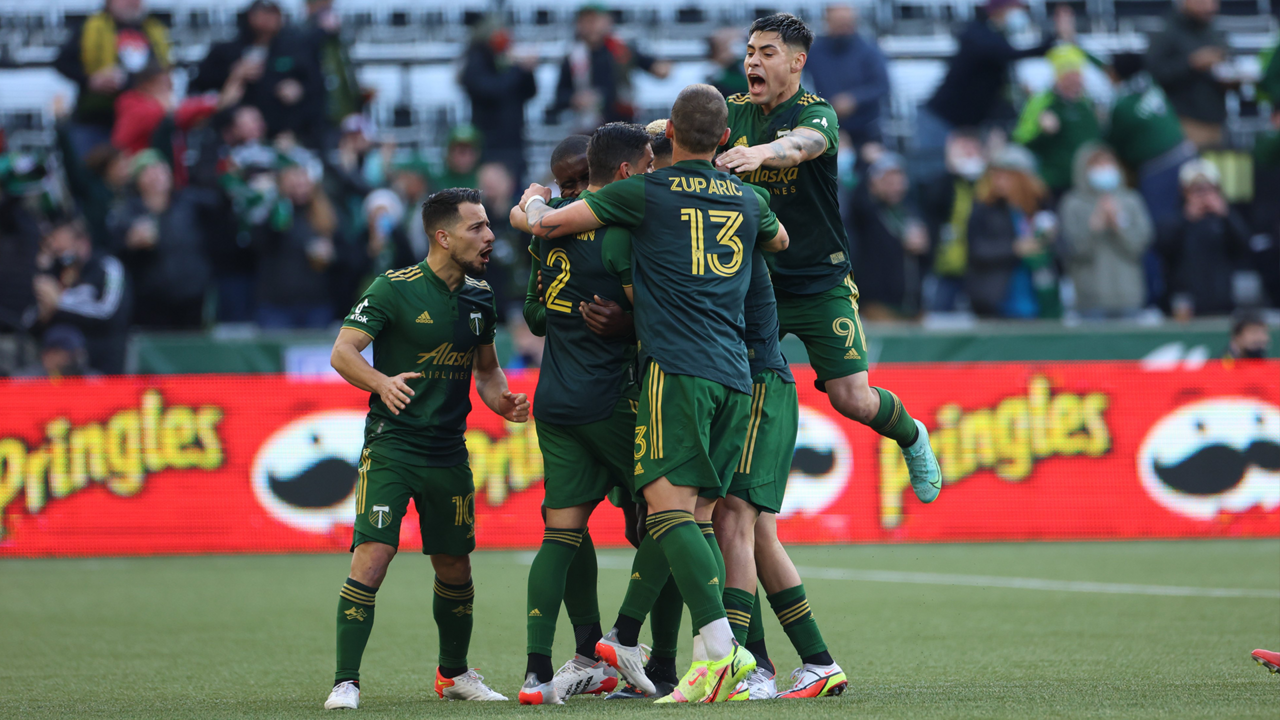 The Portland Timbers rallied from a goal down to defeat Minnesota United 3-1 in the first round of the 2021 MLS Cup Playoffs at Providence Park.
Midfielder Sebastian Blanco scored a brace that broke a 1-1 tie while defender Larrys Mabiala tallied his first goal of 2021 in the win. Franco Fragapane given the Loons an 11th-minute lead.
Portland advances to the Western Conference semifinals where they will face top seed Colorado on Thanksgiving Day.
Story of the match
Minnesota opened the scoring when Emanuel Reynoso sent a well-weighted ball out wide to Robin Lod, who cut inside and moved it to his left foot, finding Romain Metanire at the endline.
The fullback's curler was just out of Portland goalkeeper Steve Clark's reach and onto the feet of Fragapane, who slid it in to put the Loons on top 1-0.
In the 24th minute, Reynoso received a pass near the top of the box and turned quickly, earning a free-kick after a foul by Mabiala. His curling effort couldn't quite beat Clark to the left.
The Timbers began shifting the momentum their way in the later stages of the first half. A miscommunication between Osvaldo Alonso and Will Trapp led to a turnover that led to a free-kick that went well over the crossbar.
Bakaye Dibassy headed away a bicycle kick from Mabiala off a short corner in the 42nd minute. But a minute later, the Frenchman rose up on another corner kick and headed the ball into the upper right corner past Dayne St. Clair.
Portland wasted no time in taking the lead straight out of the halftime break. Claudio Bravo sent a diagonal cross from the left-wing that the defense couldn't get a solid clearance on.
As it bounced out towards the edge of the box, Blanco laid into it and drove the ball hard onto the far post and to make it 2-1. In the 61st minute, Yimmi Chara missed a golden opportunity to extend the hosts' lead.
Five minutes later, the Timbers doubled their lead as Blanco smashed one from distance, leaving St. Clair with no chance.
In stoppage time, Niko Hansen delivered a pinpoint cross onto the head of Lod in stoppage time for a shot that just missed, summing up Minnesota's evening and sending Portland to the next round.
Man of the match: Sebastian Blanco
This was an easy choice. Blanco's return re-energized Portland during the second half of the season, and his electric performance was the catalyst for this playoff victory.