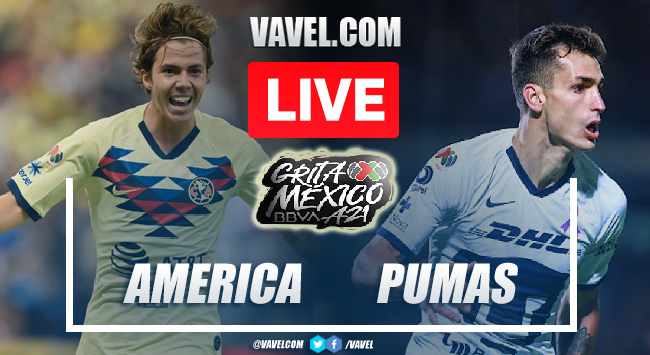 Highlights
Thanks
To the semifinals
End game
93'
90'
89'
Gol Pumas 3-1
86'
84'
82'
80'
76'
73'
68'
67'
64'
64'
63'
60'
58'
56'
55'
53'
50'
47'
46'
Goal Pumas 2-1
Half time
46'
42'
39'
Goal Pumas 1-1
29'
26'
24'
18'
Goal América 1-0
12'
11'
9'
4'
2'
1'
0'
Minutes away
They jump into the field
America substitutes
Pumas substitutes
XI Pumas
XI America
They step on the nest
Statistics
Bad start
What do América and Pumas need?
Pure speculation
Start
Tune in here America vs Pumas UNAM Live Score in Liga MX
What time is America vs Pumas UNAM match for Liga MX?
Last games
Key player Pumas UNAM
Key player America
Last Team Pumas UNAM
Last Team America
Accepts the circumstances
Pumas: sharpen their aim
America: to give a better version
What happened in the first leg?
Kick-off time
Welcome to VAVEL.com's LIVE coverage of the 2021 Liga MX: America vs Pumas UNAM!