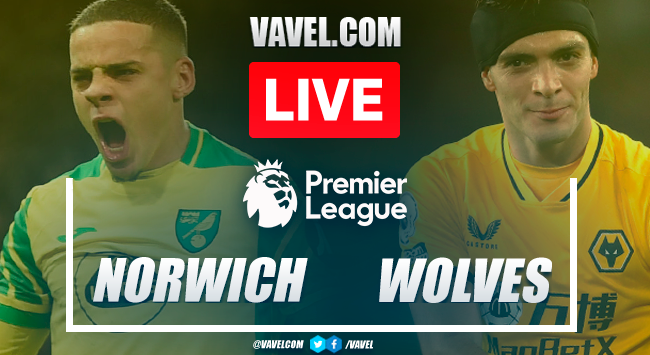 The match ends!
82'
69'
68'
53'
50'
Restart of the second half!
The first half ends!
45'
35'
31'
30'
26'
10'
The match is underway!
In case of winning...
Wolverhampton, to avoid surprises
Norwich are going for their third consecutive win
Last meeting between Norwich and Wolverhampton
Wolverhampton: substitutes
Norwich: substitutes
History between Norwich and Wolverhampton
Referee designations for the Norwich vs Wolverhampton match
Wolverhampton: confirmed lineup
Norwich City: confirmed lineup
Let's get started!
Tune in here Norwich vs Wolverhampton Live Score
How to watch Norwich vs Wolverhampton Live Stream on TV and Online?
Wolverhampton: last lineup
Norwich: last lineup
How is Wolverhampton coming along?
What's next for Norwich?
Wolverhampton's present
Norwich's current situation
Canaries host Wolves
Welcome to VAVEL.com's coverage of the Matchday 13 of the Premier League season 2021-2022: Norwich vs Wolverhampton Live Updates!