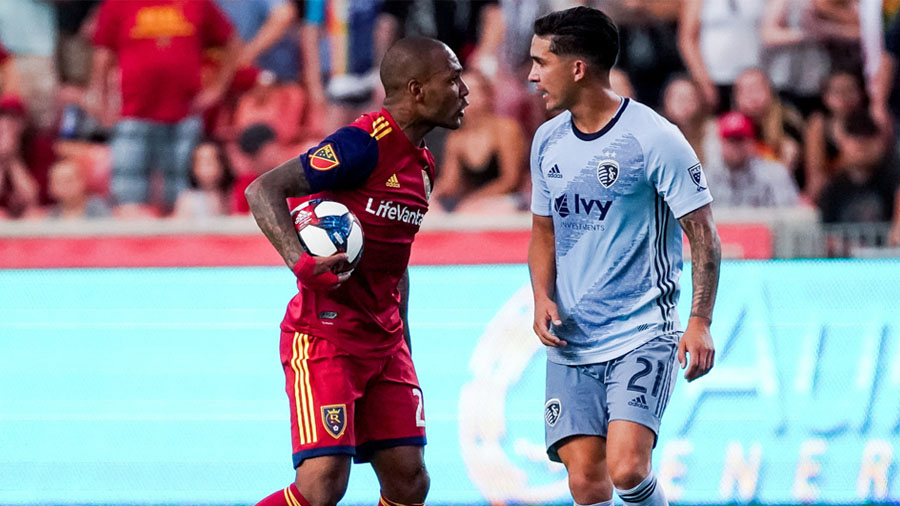 Thank you all!
1-2
SEMIFINALS
END OF THE MATCH: REAL SALTE LAKE QUALIFIES AFTER A GREAT COMEBACK
GOOOOOLLL
Two minutes added
84' Header
78' Sporting Kansas City cross
1-1
GOOOOOAAALL
Change in Sporting Kansas City
Tim Melia's save
Corner kick for Real Salte Lake
Clear chance for Gadi Kinda
END OF THE FIRST PART
45' Shot by Remi Walter
1-0
40' Johhny Rusell center
36' Almost tied
25' GOOOOAAL
23' Penalty for Sporting Kansas City
Controversy in the field
The game started
The players are already in the dressing room tunnel.
Casualties in the local team
We also have Real Salt Lake in the eleven
Sporting Kansas City lineup already in place
Children`s Mercy Park getting ready
1 hour
Where and how to watch Sporting Kansas City vs Real Salt Lake in the MLS Play-Off ?
What time is Sportin Kansas City vs Real Salt Lake in the MLS Play-Off ?
Round of 16 recap for Real Salt Lake as they look to win their second MLS title in a row 2009
Sporting Kansas City players' pre-training session
How is Real Salt Lake coming along?
How is Sporting Kansas City coming along?
Background
Headquarters
Preview of the match
Welcome to VAVEL.COM's LIVE coverage of Sporting Kansas City vs Real Salt Lake in MLS