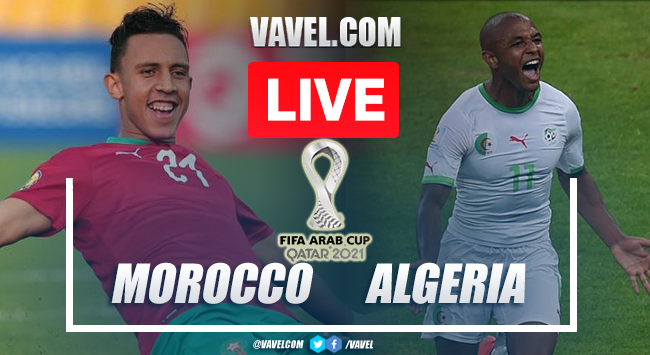 Highlights
Thanks
5th shoot
4th soot
3rd shoot
2nd shoot
1st shot
End game
118'
111'
108'
106'
Half time
105'
102'
98'
93'
90'
Final
90'
85'
84'
81'
75'
68'
63'
62'
59'
57'
55'
47'
46'
Half time
45+1'
45'
43'
34'
30'
27'
26'
21'
18'
14'
12'
10'
9'
7'
4'
0'
Already in the field
Minutes away
Who does the winner go up against?
Algeria substitutes
Morocco substitutes
XI Algeria
XI Morocco
Already warming up
Quarterfinals results
How does Algeria arrive?
How does Morocco arrive?
Start
Tune in here Morocco vs Algeria Live Score in Arab Cup 2021
What time is Morocco vs Algeria match for Arab Cup?
Last games
Key player Algeria
Key player Morocco
Last lineup Algeria
Last lineup Morocco
Algeria: advance to the semifinals
Morocco: in perfect form
The Kick-off
Welcome to VAVEL.com's LIVE coverage of the Arab Cup: Morocco vs Algeria!