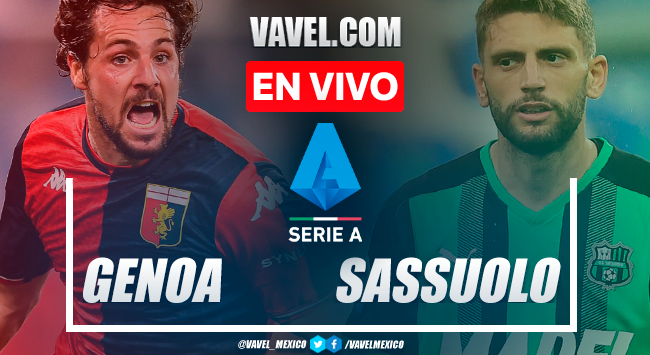 END OF THE GAME
Three minutes of pronunciation
88' Defrel leaves
86' Yellow card
84' Changes in both teams
77' Berardiiiiii
75' Destro leaves
67' Berardi's missile
64' Genoa double substitution
61' Genoa had a chance
1-1
55' GOOOOOAALLL
52' Double chance for Defrel
THE SECOND PART BEGINS
END OF THE FIRST PART
44' Berardi goes down
40' Another for Berardi
35' Foul in favor of the home team
Sirigu catches
First yellow card
13' Berardi test
0-1
7' GOOOOOAALLL
4' First chance
THE MATCH BEGINS
5 minutes
3 changes from the last game of the year
Raspadori has helped his team four times in the last four games, with two goals and two assists. The Italian is also very good at Genoa, having scored three goals against them.
Sassuelo Data
The Genoa coach has tested negative in the latest tests and will be allowed to sit on the bench
Sassuelo starts with 4-2-3-1
1 hour
How to watch Sassuolo vs Genoa in Serie A ?
What time is the match between Sassulo vs Genoa in Serie A?
Genoa players training preparing for the first game of 2022
Sassuelo reinforces with Tressoldi, who had been signed in the summer, but now arrives in Italy from Brazil, the Gremio
How does Genoa arrive ?
How does Sassuolo arrive ?
Background
Headquarters
Preview of the match
Welcome to VAVEL.COM's LIVE coverage of the Sassuelo vs Genoa match in the Serie A