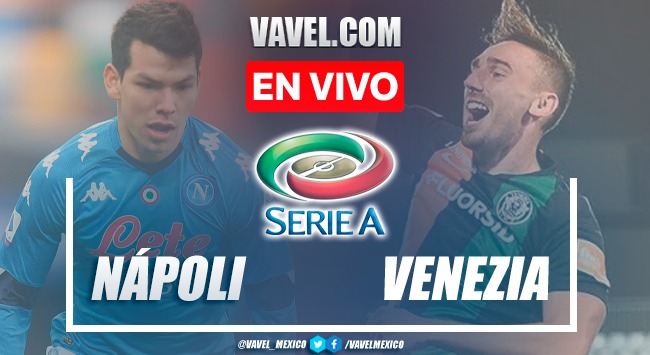 Thank you all.
END OF THE MATCH: NAPOLI WINS AND IS NOW ONE BEHIND THE LEADERS
GOOOOAALL
95' RED CARD
92' Saves Luca Lezzerini
90' The third almost came
88' Yellow card
79'
76' Yellow card
Osimhen's first goal in 2022
70'
69'
62' First change
59' GOOOOAALL
51'
THE SECOND PART BEGAN
END OF THE FIRST PART
38'
31' David Ospina appears
25' Venezia had a chance
21' Saves Luca Lezzerini
9'
5'
THE GAME BEGAN
5 minutes
Arrival of Napoli players in Venezia
Venezia's eleven
Venezia as home
This is the eleven chosen by Spaletti
Napoli data
1 hour
How to watch Venezia vs Napoli live?
What time is the Venezia vs Napoli Serie A match ?
Training of Fabian, Napoli player
Statement by Nsame, new Venezia player
How does Napoli arrive ?
How does Venezia arrive ?
Background
Headquarters
Preview of the match
Welcome to VAVEL.COM's LIVE coverage of Venezia vs Napoli in the Serie A