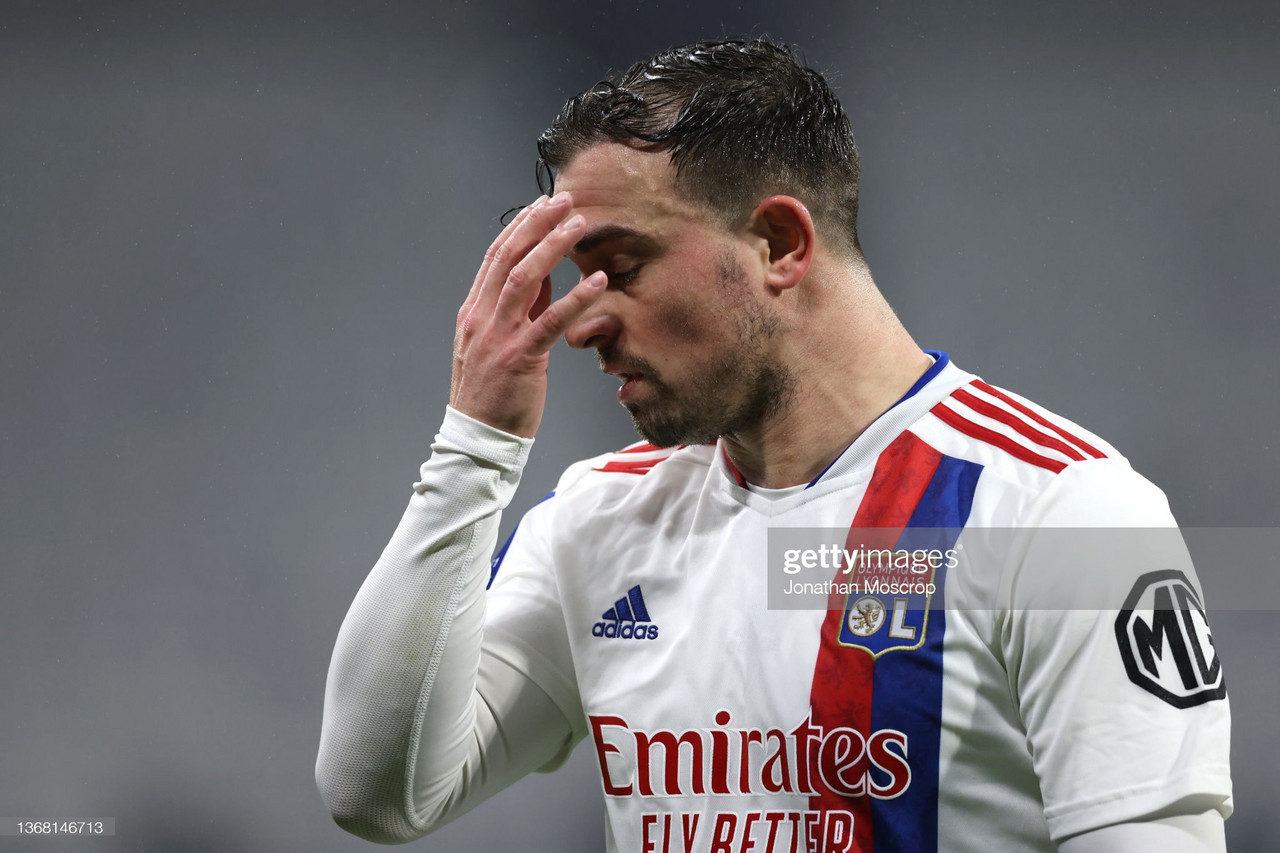 The Chicago Fire have finally decided to get in on the fun this offseason.
On Wednesday afternoon, the club officially secured the signing of Switzerland international Xherdan Shaqiri. The move took some time to come to fruition, but many fans feel like it's been well worth the wait.
A European presence for about a decade, the attacker has played for some of the biggest sides on the continent. He's also made an impact on the world's stage, consistently performing for his country at major tournaments like the World Cup and the Euros.
Even though there's reasons for supporters to get excited about the news, this transfer may not be all it's cracked up to be. Some of it is down to the player, and some of it is down to the club.
Long story short, there's a chance that Shaqiri could join the Fire's ever-growing list of disappointing DP's.
Hope
Before we get to the negatives, let's look at the positives since there are some legitimate ones.
First of all, Shaqiri is a massive name. Ironically enough, part of it is due to his diminutive stature. He just has such a remarkable body type that most fans would be able to recognize him by simply seeing a silhouette. He's shredded, but he stands at 5'7", so all of those muscles stand out even more, especially in his legs.
Another reason why he's so well-known is because of his past. As mentioned earlier, he's suited up for some of Europe's most historic clubs. After rising through the ranks at FC Basel, he went to German giants Bayern Munich. Then came a move to Inter Milan, which was followed up by a transfer to the Premier League as he joined Stoke City. When they were relegated, he made a move to Liverpool before eventually leaving for Lyon, where he is now.
That's four out of the top five leagues in Europe. It's not like he was playing for anyone small, either, as the likes of Munich, Milan, Liverpool, and Lyon were all involved in continental competitions while he was there. Stoke City wasn't, of course, but his tenure there did allow him to prove that he can in fact do it on a cold rainy night in Stoke. When you play for teams like that, you pick up plenty of fans along the way.
Then there's Shaqiri's raw talent, which is why he's played for the clubs he has. The very definition of an offensive spark, he's able to create a moment of magic in the blink of an eye. He can dance past a defender with a silky skill move, or he can absolutely unleash a shot that flies into the top corner. This makes him a nuisance for opposition defenders, who always have to keep an eye on him. It also makes him a joy to watch, which is why he's become such a fan-favorite.
So, not only are the Fire be bringing in someone who can make an impact, but they're also bringing in someone who will bring along plenty of new supporters with him.
They can certainly use him on the pitch. This current Chicago roster is desperately lacking star power. They've only got one Designated Player at the moment, and that is Gastón Giménez, who has been a disappointment since coming to the club. The only other real standout player is 17-year-old goalkeeper Gabriel Slonina, and he'll need help from his teammates if he wants to win any games this season.
It's unclear where exactly Shaqiri will play since the rest of the roster needs to be filled out, but the good thing is he can get the job done anywhere across the front four. He's best on the wing, as it allows him space to dribble and create chaos, especially if he's on the right. He can also feature centrally as an attacking midfielder since he's able to find space and pass the ball around, while his quickness and shooting ability means that he can even be thrown up top if ever need be.
All that in mind, the move is theoretically an incredible one.
Heartbreak
In reality, though, there's a chance that things could go very wrong very quickly.
As mentioned earlier, Shaqiri has played for a lot of big clubs during his career. However, the fact that he's played for that many hints at a potential concern. See, he's never really been a consistent contributor for any of his club sides. He was a spark off the bench for Munich and especially Liverpool, but he was only ever really a presence off the bench.
When he was given a bigger role at Milan and Stoke, he didn't do much with the opportunity. The attacker had some great moments, of course, but they were just moments. He only scored one Serie A goal, while his only quality season in the Premier League came when the Potters were relegated. This inconsistency is usually why he has to leave teams time and time again, and recent months have been no different.
The only real reason why Shaqiri is even available is because he has flopped hard at Lyon. Joining this past summer, some were expecting the move to work out well for both parties. The player would get more time out on the field, while the club were getting a player with star potential. That has not happened in the slightest, as things have been borderline disastrous for each side. Shaqiri has only made 16 appearances in all competitions, with five coming in the Europa League, and he's only got five goal contributions. Lyon, meanwhile, had a woeful start to the campaign, and have only climbed back up to 8th in the time since.
A split is needed, but if Shaqiri had done better then it wouldn't have come down to this.
These developments have led to even more concerns about the way he approaches the game. To call Shaqiri a lazy player would be pretty harsh and unfair, but it wouldn't be completely untrue. He's someone who plays quite casually, which can lead to some issues. He doesn't press and track back all the time, and it sometimes looks like he's a bit apathetic about what's going on.
That's not ideal, and it's an especially big worry since he's coming to Major League Soccer. Plenty of big name players in the past have joined the league and not taken it seriously, buying into the European claims that it's a much lower level. As a result, they get battered by the speed and the physicality of everyone else, and they end up leaving as flops, with Lothar Matthäus arguably being the greatest example of this.
There's a chance that could be what happens to Shaqiri. He's going to be forced to fight on a weekly basis, and if he's not up for the challenge then he and the Fire will be in trouble.
Then there's the pressure that will be put on his shoulders. For all intents and purposes, the Swiss captain will be the guy going forward. He will be responsible for both scoring and creating goals, and he'll have to do it while having almost all of the attention of the opposing defense. He won't have much help, either, as this Chicago roster lacks true firepower in the final third.
It's a similar story off the field. Whether Shaqiri wants it or not, he'll be the face of the Fire. He'll be on all the branding and commercials, and his name will be on the back of most jerseys. As a result, if the team fails to perform then he will get the blame, even if it's undeserved. Will he be able to handle all that? There's a chance that he won't. He's only ever been the go-to guy with Switzerland, so he might not be able to put the team on his back like many are hoping he can.
He's also just not that caliber of player. Chicago supporters are treating Shaqiri like he's some sort of savior. It's hard to blame them since they've had so little to celebrate over the past few years, but the expectations have been raised way too high. He's not a Lorenzo Insigne or Carlos Vela, someone who can single-handedly change a franchise overnight. He's good, and he could be great, but he's not going to be one of the greatest players the league has ever seen.
The problem is that he might need to be that if the team is going to succeed this season. As hinted at earlier, Shaqiri might not have a lot of help. Going forward, it's unclear if Kacper Przybyłko will work in Chicago, and the other attacking options seem to be too young at the moment. Things might be a bit more solid at the back, but it won't matter if they can't score any goals.
Lastly, this signing seems a little too convenient. Fire sporting director Georg Heitz worked with Shaqiri back when they were both at Basel, so the two certainly know each other quite well. Does Heitz actually believe that the player is the right man for the team, or is he just relying on an old connection to try and save himself? Considering how poor Heitz's other acquisitions have been, there's reasons to have some doubt about this deal.
The waiting game
All in all, only time will tell how this move pans out.
If Shaqiri is able to hit the ground running, and the club adds some pieces to support him, then the signing could go down as an elite one. His talent means that he can win games on his own, and the spark he provides could boost Chicago into the playoffs.
If he struggles early on, though, then it all could go downhill very quickly. The Swiss captain might have to do everything on his own, and if history is any indication, then he'll fail to do so. Another disappointing DP will only send the Fire's fanbase into further desperation, plummeting the team's already low attendance figures as a result.
Best of luck to all involved.