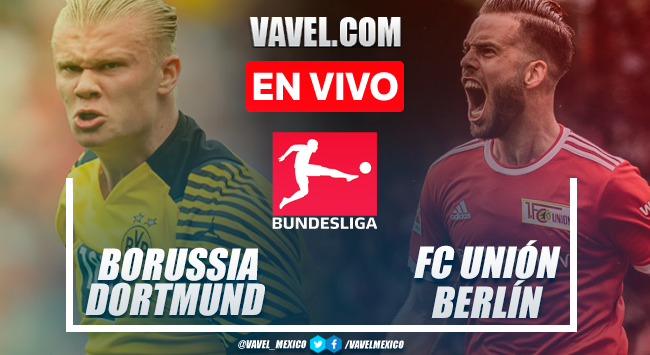 Thank you all.
END OF MATCH: DORTMUND MOVE TO WITHIN SIX POINTS OF LEADERS
90' Reus, Guerrero and Brandt retire
84' For Kobel
ANNULLED GOAL
GOOOOAAL
71' GOOOOOLL
Fischer's double shift
60' Foul in favor of Dortmund
54'
46'
END OF THE FIRST PART
41' Malen had it
39' Yellow card for Brandt
35' Yellow card
0-2
25' GOOOOAALL
Marco Reus scores 150th goal in Borussia Dortmund shirt
18' GOOOOAALLL
13' Guerreiro
10' Good intervention by Oczipka
5' First clear chance
1'
All set
Rose's team is struggling on defense
Dortmund is good at playing away from home on Sundays
Fischer has selected the following eleven in order to surprise the public
Arrival of Union Berlin players at the Stadion An Der Alten Forsteri
Rose starts with this eleven:
1 hour
How to watch Union Berlin vs Borussia Dortmund live?
What time is Union Berlin vs Borussia Dortmund in Bundesliga ?
Borussia Dortmund in training ahead of Berlin match
The pitch at the Stadion An der Alten Forsteri has been changed for Dortmund.
How are Borussia Dortmund coming along?
How is Union Berlin arriving ?
Background
Headquarters
Preview of the match
Welcome to VAVEL.COM's LIVE coverage of the match between Union Berlin and Borussia Dortmund in Bundesliga.