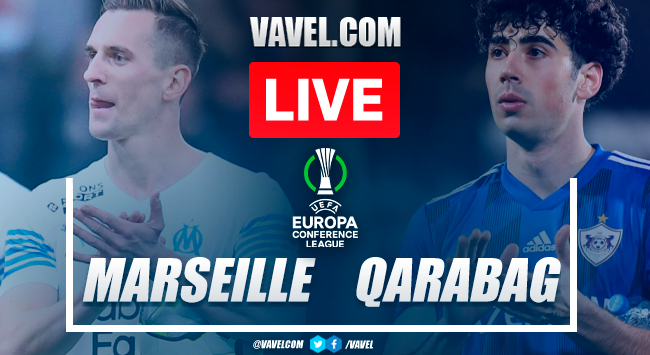 Match ends!
MARSEILLE GOAL!
90+1'
90'
88'
QARABAG GOAL!
77'
74'
69'
65'
Restart of the second half!
End of the first half!
MARSEILLE GOAL!
MARSEILLE GOAL!
36'
15'
The match is underway!
How did Qarabag get on top?
How are Marseille coming along?
Referees for the match Marseille vs Qarabag
Qarabag: substitutes
Marseille: substitutes
Qarabag: confirmed lineup
Marseille: confirmed lineup
Let's get started!
Tune in here Marseille vs Qarabag Live Score
How to watch Marseille vs Qarabag Live Stream on TV and Online?
Qarabag: last lineup
Marseille: last lineup
How did Qarabag get in?
How did Marseille qualify?
Who are competing?
Preliminary Round of the Knockout Phase
What is the UEFA Conference League?
Welcome to VAVEL.com's coverage in the UEFA Europa Conference League Preliminary Knockout Round: Marseille vs Qarabag Live Updates!