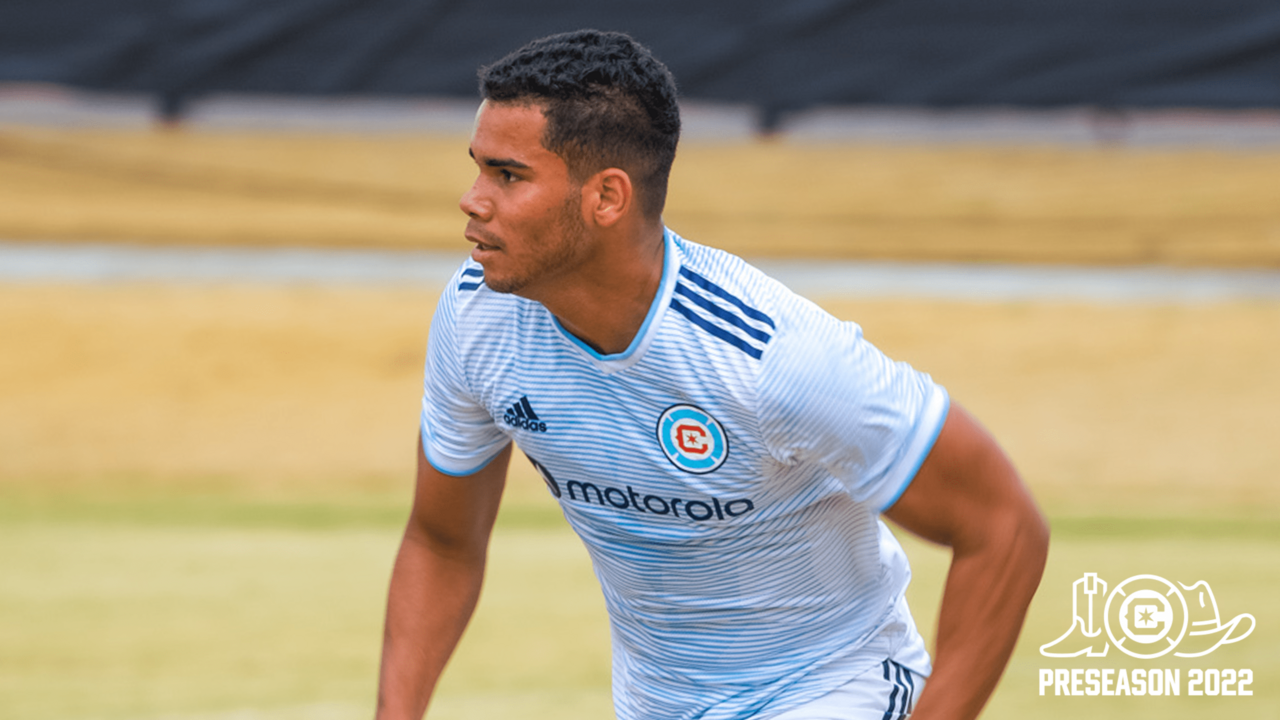 Life comes at you horrifyingly fast, and that is especially true for the Chicago Fire.
Even though it feels like the 2021 season ended just yesterday, their 2022 campaign kicks off in less than two weeks as they face Inter Miami on the 26th.
Their offseason was filled with important decisions both on and off the pitch. They went through yet another roster overhaul, and a lot of the moves made were big in one way or another. They've got a new head coach and a new logo, so fans will be hoping that they will be seeing a new and improved Fire team this upcoming season.
Will that happen? Only time will tell, but there's reason to have hope.
Summary of last season
2021 was not a good year for the Fire to say the very least.
They made a dream start to the season, scoring twice in the opening 11 minutes of their first game of the campaign. However, things went downhill very quickly, as they went on to tie that contest before losing seven of their next eight matches.
That put Chicago in an early hole, and they were never able to climb out of it. A three-game homestand that led to seven points hinted at a comeback, but they then lost their next game 5-1, which was a real punch to the gut.
Another poor run, this time being one win in seven, killed off any postseason dreams that were still left lingering. This led to the firing of head coach Raphaël Wicky, and interim boss Frank Klopas saw off a relatively uneventful end to the year.
All in all, it was yet another disappointing season. The Fire missed the playoffs, and they missed it by a wide margin. They ended up 12th in the Eastern Conference, with only two sides behind them when all was said and done.
It was effectively the same sort of campaign that fans have gotten used to seeing for the past decade. Chicago were poor at home, dropping points in more games than not, and they were woeful on the road, only winning twice on their travels. Only one other team scored fewer goals than them, and their defensive record wasn't great either.
That is why the club knew that changes needed to be made in the winter.
Key offseason moves
It all started when they had to decide whose contracts to pick up and whose to decline.
Most of the marquee names were let go, as the likes of Designated Player Robert Berić, Francisco Calvo, Álvaro Medrán, and Luka Stojanović were all turned away. Some of these calls were contentious ones for sure, but it was a necessary first step when it came to the team's rebuild.
Another DP departed shortly after when Ignacio Aliseda was sent to sister club FC Lugano, but one was kept since Chicago re-signed Gastón Giménez.
Then came the new senior acquisitions. First was Rafael Czichos, a centerback from Bundesliga side FC Köln. This was a shrewd and smart signing, as the Fire gained someone who will bring experience and leadership to the backline.
Next was Kacper Przybyłko. Brought in via a trade with the Philadelphia Union, the striker has been a consistent goalscorer ever since coming to Major League Soccer, and Chicago will be hoping that he can produce more of the same with them.
Last was the biggest move of them all. After weeks of rumors and speculation, the club were finally able to confirm the signing of Xherdan Shaqiri from Lyon. One of the most well-known players on the planet, this move has filled a decent chunk of the fanbase with hope and optimism. There will be a lot of pressure on the Swiss captain's shoulders, but if he can play at his best then he might just carry this Fire team into the playoffs.
A few promising homegrowns were also signed, like Missael Rodríguez, Sergio Oregel Jr, and Victor Bezerra, while fellow phenom John Durán also arrived after being bought last year.
It's been a good window in some aspects, but there's reason to believe that it's not enough. Chicago are still missing a DP, so they might be lacking true star power out on the pitch, especially if Giménez disappoints once again. There's also not a lot of depth in certain positions, so a few injuries could derail the team's season in the blink of an eye.
Will they be good enough to survive until further reinforcements can come in? That'll be the big question, but if recent history is any indication then they probably won't be able to.
A potentially big update has come in the form of Jairo Torres, though. The 21-year-old Mexican has been on the radar of the club for weeks, and it now seems like they're very close to signing him. If they can get this deal over the line, then it would be a potentially massive acquisition that could change things going forward.
Ones to watch
Gabriel "Gaga" Slonina
Formerly considered the future in goal, Gabriel Slonina has very quickly become the Fire's present as well. He's the team's starting goalkeeper at the age of 17, and he's already one of their most important players. An incredibly calm presence at the back despite his age, he's shown that he might be able to do it all when it comes to being a top-tier keeper. There's some pressure on him to prove that he's not just a flash-in-the-pan prodigy, but considering how well he's handled everything else thrown at him, he'll almost certainly be fine.
Gastón Giménez
If Chicago wants to have any real chance of being good this season, then they'll need Gastón Giménez to step up. The Designated Player has been quite useless ever since coming to the club in 2020, only ever showing a few glimpses of promise during his tenure here. The Fire decided to stick by him this offseason, though, giving him the aforementioned contract extension. He's going to have to repay their faith in a big way, but if he can't then he and the club will be in trouble.
Federico Navarro
Luckily for Giménez, he'll have an absolute stud next to him in midfield. Federico Navarro came to Chicago near the final stretch of last season, and he immediately hit the ground running. A tenacious ball-winning midfielder, the Argentine is a nuisance for opposing players to deal with. He's already elite, and he's only 21-years-old. The Fire don't usually get signings right, but they've definitely found a gem in Navarro, and it'll be fun to watch him grow and develop this campaign with a full preseason under his belt.
First few fixtures
Inter Miami (A)
Chicago couldn't really have asked for a much easier season opener. Inter Miami is one of the few teams that finished behind them last season, and a big reason why was the failings of head coach Phil Neville. He wasn't fired during the offseason for whatever reason, and the roster wasn't really revolutionized either, so there's a good chance that Miami will struggle once again early on. As a result, the Fire will have a good chance of starting their campaign with a potentially crucial road win.
Orlando City (H)
Chicago's home opener comes the week after as they host Orlando City. Unlike their Floridian counterparts, Orlando did undergo a massive squad overhaul, losing key players in Daryl Dike, Nani, and Chris Mueller. They brought in replacements, with the most exciting of them being Facundo Torres, but it's unclear whether or not they'll be able to replicate their strong showing from last year. With that in mind, the Soldier Field faithful will like their odds of ending the night with all three points.
D.C. United (A)
Then comes a trip to the capital to take on D.C. United. On paper, the Fire should be relatively clear favorites. Their roster is more talented, especially after United lost the likes of Kevin Paredes and Paul Arriola in the offseason. However, D.C. tends to surprise people, so it wouldn't be a huge shock to see them pick up the victory on this occasion, especially since they're at home. At the very least, it's another very winnable game for Chicago.
Sporting Kansas City (H)
The Fire ends the month of March with their toughest fixture so far. They'll be back at home, but they will be facing off against perennial contender Sporting Kansas City. This just seems like one of those games Chicago loses simply because the opposition are better than them. There's nothing really wrong with that, as a lot of teams lose to KC, but it'll likely serve as a reality check for the hosts, especially if they do well in their aforementioned matches. Then again, if the Fire is in good form, there might be an opportunity for them to throw down a gauntlet and prove that they are legit.
How will they do?
All that hope aside, there's still a real possibility that this season ends up just like how most seasons have ended this past decade.
There's just so many questions surrounding Chicago. How will Ezra Hendrickson do in his first year as a head coach in MLS? Can Xherdan Shaqiri bounce back following his horrific move to Lyon? Will Kacper Przybyłko still score at a consistent level in a new system? How are the youngsters going to perform?
If one or multiple key components fail to perform, then the rest of the side will really suffer as a result. It might just take one domino to fall to send the Fire into crisis once again, especially since the fanbase is a bit on edge. They're excited at the moment, but a bad run could send them back into a state of fear and panic since they've seen this story play out so many times before.
Then again, things might finally click like they did back in 2017. Chicago has plenty of talent, and the addition of Jairo Torres could really change the way people look at this roster. There's not too many holes in the lineup, and if the big names can step up then the club might finally return to the playoffs.
The start of the season will be massive. The Fire have historically been woeful early on in campaigns, which puts them in a hole that they can never get out of. Looking back at their first few matches and who they are against, Chicago can absolutely hit the ground running. Picking up points at the start will only inject the team with confidence, improving their play as a result. On the other hand, failing to make the most of the opportunity presented to them could kill off the dreams of supporters before we even get to spring.
Making predictions about this league and this team specifically is always tough because there's just so much that can happen between now and the end of the season. However, if I had to bet my savings account on how the Fire season's will end, then I'd put it on them failing to live up to expectations and missing the postseason once again. It's just what they've done as of late.
For the fanbase's sake, hopefully I'm wrong.