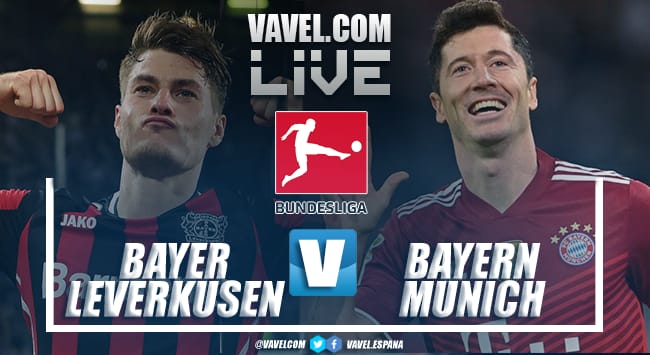 Thank you all.
END OF THE MATCH: POINTS SHARED
90' Prolongation time
Seone's double change
88' Shock for Bayern Munich
86'
82'
74'
72'
70'
69'
65'
Nagalsman double shift
58' The assistants come in
56'
54'
48'
46'
END OF THE FIRST PART
1-1
45'
36' GOOOOOOAALLL
34'
32'
27'
23'
Sule's first goal of the season
18' GOOOOOOAAALL
16'
13'
8'
THE GAME BEGAN
All set
Attention to: Diaby
Bayern Munich have only lost one home game in 2022
Bayer Leverkusen start the match with a line of three center backs
Nagalsman's team starts with this eleven: Sané on the bench is the main novelty.
Bayern Munich players already at the Allienz Arena
1 hour
How to watch Bayer Munich vs Bayern Leverkusen live?
What time is Bayern Munich vs Bayer Leverkusen in Bundesliga ?
Statement by Bayer Leverkusen head coach Seone
Bavarians training with Bayer Leverkusen in mind
How are Bayer Leverkusen coming along?
How is Bayern Munich coming along?
Background
Venue: The match will be played at the Allianz Arena, a stadium built in 2001 with a capacity of 75,000 spectators.
Preview of the match
Welcome to VAVEL.COM's LIVE coverage of Bayern Munich vs Bayer Leverkusen in the Bundesliga.