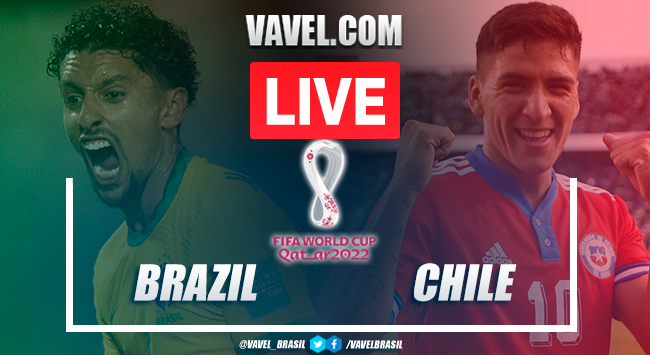 Last Round
Classification
⏱️
⏱️
49'
47'
45'
45' GOAL BRASIL
42'
36' Substitutions in Brazil
35'
30' Substitutions in Chile
29' Substitutions in Brazil
26' GOAL BRAZIL
24' Yellow card for Brazil
24' Yellow card for Chile
23' PENALTY
21'
17' Substitution in Brazil
17' Yellow card for Chile
16' Hanging
16' Yellow card for Brazil
15' Substitution in Chile
14' Yellow card for Brazil
11' WAS THE THIRD
9'
7'
4' VAR
2' VAR
3' GOAL CHILE
Substitution in Chile
00'
⏱️
⏱️
47'
45'
45' GOAL BRAZIL
43' GOAL BRAZIL
41' PENALTY
40'
38' LOOK AT HIM
36' BRAVO
35' WOW
33'
29'
22' BRAVO
21' Yellow card for Brazil
20'
18' GOOD PLAY
16'
12'
9'
7'
5'
3'
2'
00'
00'
⏱️
La Roja substitutes
Chile defined
Canary reserves
Brazil with its 11
⏱️
Eye on the card: Chile
Eye on the card: Brazil
Video Refereeing
Field Referee
How and where to watch the Brazil vs Chile match live?
What time is Brazil vs Chile match for the World Cup Qualifiers?
Lasarte with its golden generation
Tite cites pressure to get result
Meeting in round 7
Returns in the chilean list
Squads of Chile
Changes to the original list
Squads of Brazil
La Roja in search of qualification
Undefeated Canary
South American Dueling
Welcome to VAVEL.com's coverage of the World Cup Qualifiers match: Brazil vs Chile Live Updates!